A grand waterway, lush mountains, enchanting villages, artists, whales, and joie de vivre epitomize the north shore of Quebec's St. Lawrence River.
"Seen from the ferry, a sunrise on the St. Lawrence is an awesome sight," remarked a woman on the Gaspé Peninsula in Quebec. Our 5:30 am reservation from Matane would allow that opportunity while delivering us to the easternmost town on the north shore accessible by ferry.  Parking our 5th wheel overnight at the ferry terminal ensured an early boarding. Unfortunately, rain and low clouds shrouded the sunrise, but the picturesque north shore proved to be more awesome than we could have imagined.
In a little more than two hours, my wife Sandy and I disembarked, as the sleepy little village of Godbout was awaking. A right turn here, onto Route 138, takes you over 500 kilometres along the ragged coast to Natashquan, the end of the road. We turned left toward Quebec City. Over the next eight days, we meandered over 400 kilometres through the tourist regions of Manicouagan, Charlevoix, and Quebec, havens for artists and nature lovers.
Baie-Comeau
Driving west to Baie-Comeau, we were treated to majestic views of the river on the left and steep verdant mountains on the right. The end of June begins summer vacation for students in Quebec, meaning things get busier even in this relatively secluded region of the province. Had we arrived a week earlier, or been more diligent about making an advanced reservation, we could have taken an alternate ferry from Matane directly to Baie-Comeau. But that ferry only departs later in the day, which means we would have missed the sunrise!
Our two day stay in Baie-Comeau wasn't nearly long enough to explore all the attractions this area has to offer:  Jardins des Glaciers (Garden of the Glaciers) includes a multimedia exploration of climate change, a postglacial nature tour, and an adrenalin zone offering one of the longest zip lines in North America (2.1 km); a couple of world-renowned hydroelectric facilities (Manic 2 and 5) with unique designs and gigantic dimensions; and a black bear environmental centre with interpreter guides.
After a brief stop at the tourist information bureau, we explored the downtown area – historic buildings, art galleries, and a particularly fine gourmet shop featuring regional cheeses and chocolates. Former Canadian Prime Minister Brian Mulroney is a native of the town.
Part of Quebec's charm is its distinctive French heritage, spanning over 400 years since Jacques Cartier first dropped anchor here in 1535. We felt like we were in France: street signs, brochures, menus, unique architecture, and everyone speaking en français. Even with our very limited vocabulary, we always managed to communicate, using a few words, gestures, and laughter. Everyone appreciated our attempt to do so and we were enriched by the experience. Vive la différence!
Tadoussac
Departing Baie-Comeau, we continued along the well-constructed coastal highway, aptly named Route des Baleines (Whale Route). Beneath the surface of the St. Lawrence River is a deep valley extending out to sea which provides a buffet of delicacies for many species of marine mammals, making this area one of the best in the world for seeing whales, especially belugas and minkes, in their natural environment. We were surprised to learn that the river is a mixture of fresh and salt water and minor tidal changes occur as far upstream as Quebec City, still 400 kilometres away.
Our campsite at Tadoussac provided a panoramic view of the village and its expansive sand-fringed circular bay, described by an international association as one of the most beautiful in the world. A large elegant hotel with its shiny red roof is the town's most prominent landmark, overshadowing a replica of the first fur-trading post in Canada, established here in 1600.
Tadoussac's Marine Mammal Interpretation Centre provides information about 13 species of whales through videos, sound recordings, giant skeletons, and interesting interactive exhibits. Several operators at the marina provide whale-watching tours on the St. Lawrence and the adjoining Saguenay Fjord. Or you can simply stroll along the boardwalk at the confluence of the two rivers and have the whales come to you. A local suggested, "Pack a picnic lunch with a bottle of vin and a generous supply of patience and you're sure to have a grand time." We did, in spite of not having a magical encounter with a whale.
Charlevoix
A free 10-minute ferry ride across the Saguenay River and a short drive brought us to La Malbaie in the Charlevoix region. Having previously read about a premiere golf course draped atop a mountain, I spent an afternoon admiring stunning vistas while pretending mastery of a little white ball. The prestigious Fairmount Le Manoir Richelieu Hotel and adjacent Casino offer a holiday destination for those seeking luxury amidst unbridled natural beauty. US president William Howard Taft adored the region and remarked that the air was "as intoxicating as champagne, yet without the hangover." Later that day, we hiked to Chute Frazier, a dramatic waterfall that cascaded down a rocky escarpment within our campground.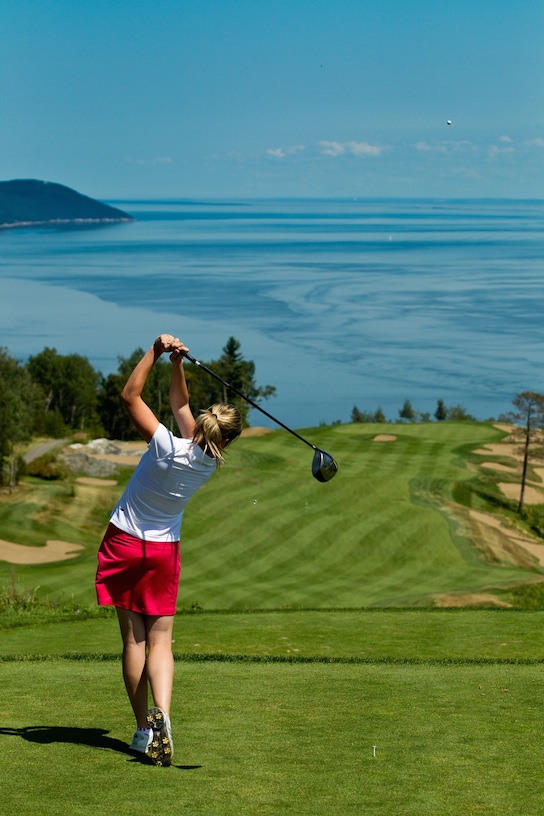 The River Drive (Route 362) to Baie-Saint-Paul is a narrow and occasionally steep road that hugs the shoreline, providing spectacular views at nearly every turn. Renowned as one of the most scenic drives in Canada, this 50-kilometre road is unsuitable for large RVs.  Fortunately, we had left our trailer at the campground.  Lovely coastal communities such as Sainte-Irénée and Les Éboulements – members of the Most Beautiful Villages in Quebec Association – beckon exploration. Farther along, the road dips down to the village of Saint-Joseph-de-la-Rive where a maritime museum displays old sailing schooners that played a vital role in the economic development of this region. At one of several viewpoints, a local artist was painting pictures on a hillside, occasionally selling one of his colourful creations to admiring tourists.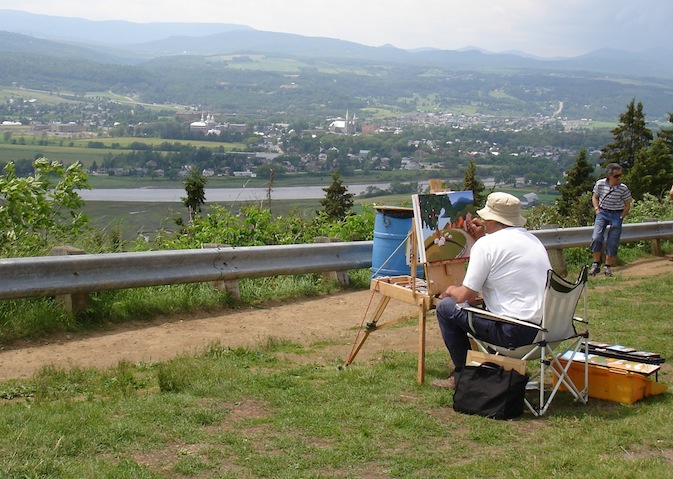 Baie-Saint-Paul, one of the oldest towns in Quebec, is an artist's paradise with its traditional French architecture and European ambiance. Art galleries, craft boutiques, and trendy restaurants line its narrow main street; tourists strolled about eating ice cream cones and French pastries. We lunched on the patio of a microbrewery, sampling a selection of their popular beers while relishing a bowl of French onion soup. Délicieux! A bronze statue of A. Y. Jackson honors the famous Canadian painter who in the 1920's, after founding the Group of Seven, encouraged many artists to visit and capture the beauty of Charlevoix on canvas .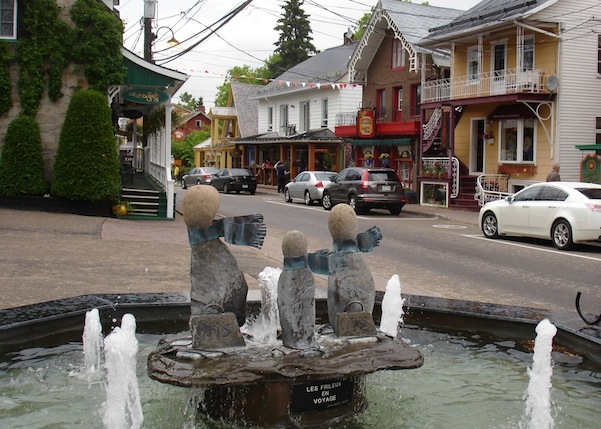 A nearby dairy museum enlightened us about the cheese-making process. Did you know that Canadienne cows have been bred in Charlevoix since the 1600's to produce rich milk especially suited to cheese making? Neither did we, but the cheese curds were outstanding.
Returning along the main highway, we marveled at the mountainous terrain formed millions of years ago by the impact of a large meteorite, resulting in a crater that extends from Baie Saint Paul to La Malbaie. Our bag of curds lasted just long enough to share with our campground neighbours, who reciprocated by offering us a fresh trout they had caught in a nearby lake. Fishing, hiking, canoeing, bird-watching and other outdoor activities in the majestic countryside are as popular as cultural pursuits for those so inclined.
Sainte-Anne-De-Beaupré
Our final two days were spent beside the river at a government campground in Sainte-Anne-de-Beaupré. Directly across the highway is an impressive Romanesque cathedral dedicated to Sainte Anne, said to be the grandmother of Jesus. A tour guide pointed out the significance of the magnificent paintings, mosaics, stained glass windows, and sculptures that embellish the Basilica. This renowned pilgrimage site, the oldest (350 years) in North America, is visited annually by nearly a million people seeking reflection and inner peace. Two walls of used crutches attest to the power of faith for some individuals.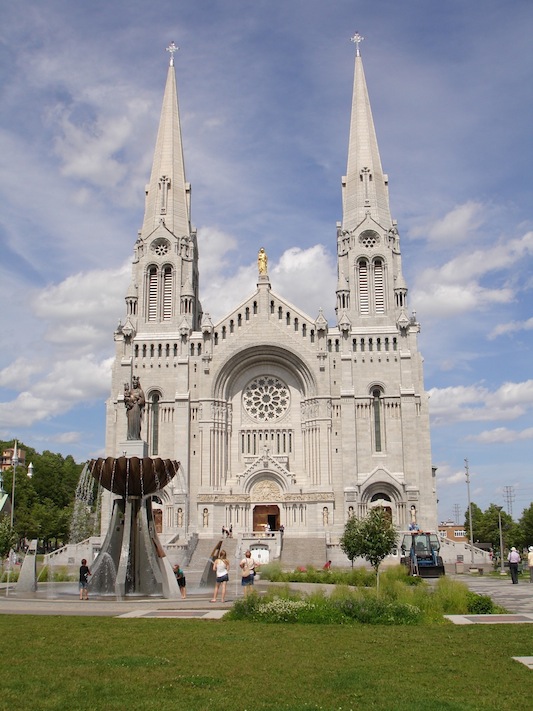 The previous year, we had explored the south shore of the St. Lawrence and on this trip, the north shore. Both have plentiful campgrounds, a wealth of history, gracious hospitality, and comfortable roads, smooth and reasonably graded. But for picture-perfect scenery, we favour the latter even without having seen that awesome sunrise or elusive whale. Not to worry – we now have at least two reasons for a return trip.
FOR INFO:
Tourist Guide of Quebec:  www.quebecweb.com/tourisme/fleuveang.html