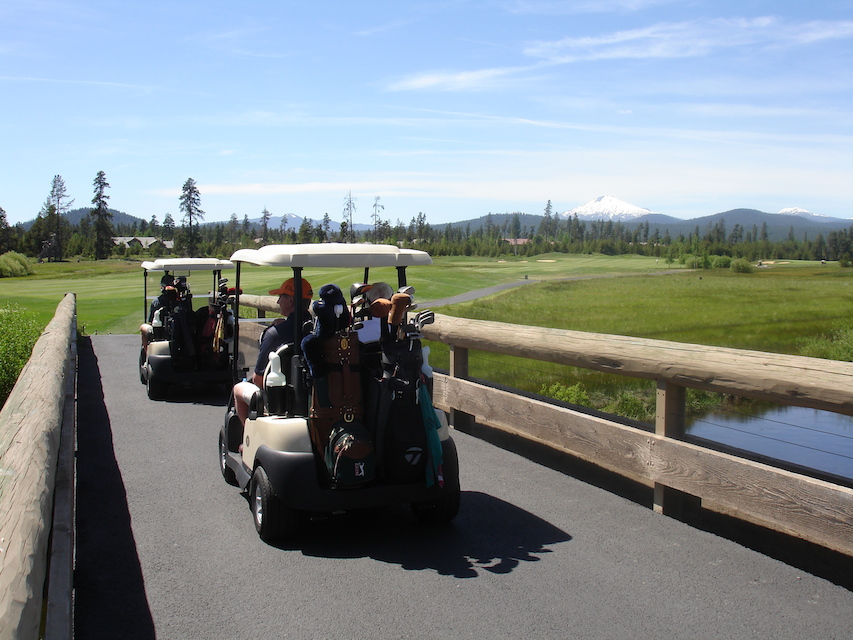 Four courses, four duffers, and poker till the wee hours
The piercing cry of a bald eagle broke my concentration as I was attempting a two-foot putt on the 12th green at Crosswater.  I missed.  Not unusual – I have been know to miss the occasional two-footer, so I couldn't really blame it on Mr. Noisy soaring gracefully above us in search of dinner.  The head pro had told us, "Look for the nest of fledgling eagles beside the 13th t-box." Sure enough, as one watchful adult perched on an overhead branch, two brown heads stretched skyward anxiously awaiting a tasty morsel from the foraging parent.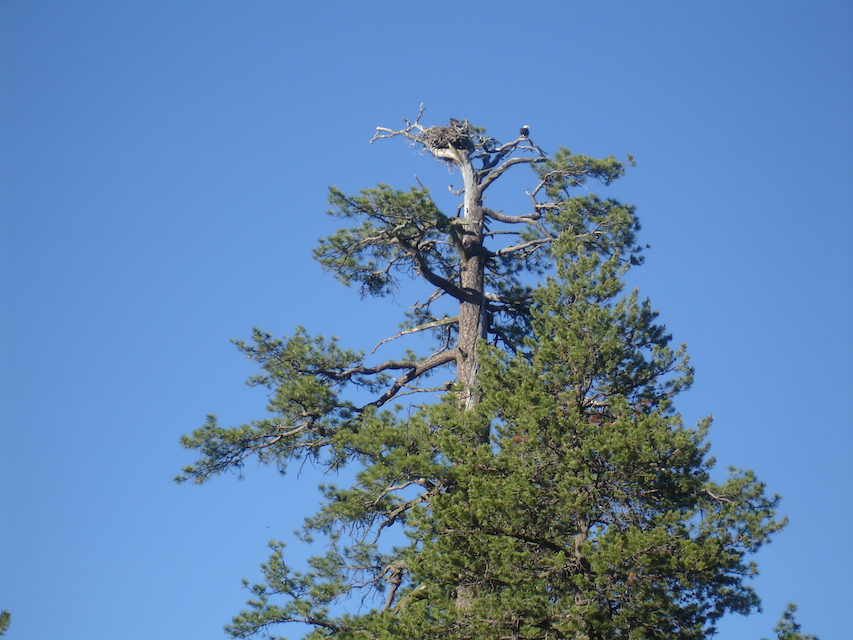 This environmentally-sensitive preserve of meadows, forests, and wetlands is a nature-lover's delight: besides the resident eagles, hawks and ospreys circle overhead; small deer and Canada geese with trailing goslings meander about, and songbirds twitter in the underbrush near my ball as if to say "over here!" Although semi-private, Crosswater is open to visitors staying at Sunriver Resort, a 1500-acre vacation destination near the bustling town of Bend in central Oregon. Rated by Golf Digest as "one of America's 100 Greatest," Crosswater has hosted many national championships over the years. Every August in the Jeld-Wen Tradition, PGA pros compete on this Bob Cupp designed course. Previous winners include Tom Watson, Craig Stadler, and Mark McNulty.
Sunriver Resort's other golfing facilities are Woodlands and Meadows, two 18-hole championship courses, and Caldera Links, a 9-hole "family-friendly" course in an attractive new subdivision with lakes, fountains, and gigantic boulders providing rugged ambiance. Designs vary but all four courses feature stunning views of snow-capped Mt. Bachelor on their signature holes. Somewhat surprising for a short course, Caldera's greens were the best I've ever three-putted on. And Zeppa Bistro's gourmet pizza and specialty microbrews on their lakeside patio provided the perfect lunch break between nines.
I first heard about Sunriver from my buddy Walt from Portland, who had won a silent-auction bid for one-week's accommodation at the Resort. He invited Brian from California, me from British Columbia, and Bob from Idaho, to join him for the week, rekindling friendships that go back to high school, college, and Vietnam. The weather in June was perfect, with sunshiny days in the low 80's. Our scores, regrettably, were well above that! Sunriver is a Mecca for recreational golfers: within a half-hour's drive are a dozen public courses, including Lost Tracks, Quail Run, River's Edge, Widgi Creek and Eagle Crest. During our week, we only played the four Resort courses, which were all in superb condition.
Although we all enjoy a round of golf, poker is our game of choice, most likely because luck plays a greater role than skill. Since Walt enjoys gourmet cooking, we ate most of our evening meals in the condo. No sooner were the dishes cleared, out came the cards, chips, and beverages. Dealer's choice; maximum bid a quarter, three raise limit … a friendly game. We quit when someone fell asleep at the table or mumbled incoherently.
On our two lay days, we took advantage of a few of the Resort's amenities, including bike riding on sun-dappled trails, swimming, tennis, exercising at the well-equipped fitness centre, and kayaking on the scenic Deschutes River. We also drove to the ski resort at Mt. Bachelor to have a closer look; then to downtown Bend, where we spent time at a local brewery doing some serious male bonding. Day's end found us back at Sunriver, meandering through several boutiques and a country store in the Village. A Jimmy Buffet impersonator was belting out toe-tapping tunes on the outdoor stage, stirring up uncontrollable urges to buy chips, salsa, and mixen's for margaritas.
On our last evening, after savoring indigenous cuisine at Sunriver's Meadows Restaurant, we raised our glasses to a memorable week in a magnificent setting. We then returned to our abode, soaked in the hot tub, and played one final game till the wee hours, vowing to do it all over again next year. After tallying the chips and burning our scorecards, we all felt like winners!
FOR INFO:
Sunriver Resort:  www.sunriver-resort.com