A Canadian city that oozes old world charm and hospitality, with an abundance of activites for winter visitors
 Northern residents who pack up their RV's in the fall and head south, seeking warmer climes over the winter months, are referred to as "snowbirds." My wife Sandy and I have been snowbirding from Canada for the past 10 years to resorts in the Sunbelt – in our case, Arizona and California. This year, we decided to spend our winter in Canada, with the intention of answering the question: is this a viable option to heading south?
Two areas within Canada are popular snowbird destinations: Osoyoos in the interior of British Columbia, and Victoria on the southern tip of Vancouver Island. The former small town is actually on the fringe of the Sonoran Desert, which extends north from Mexico to form Canada's only arid desert. While that may appeal to RVers who enjoy the desert, we chose Victoria because it is reported to have the "mildest climate in Canada," and for its cosmopolitan ambiance and proximity to the ocean.
Since Victoria is on an island, you have to take a ferry to get there with your RV. From mainland British Columbia, the quickest route is BC Ferries' Tsawwassen-to-Sidney, dropping you off a half-hour north of Victoria. From Washington, the Blackball Ferry from Port Angeles or the Washington State Ferry from Anacortes terminates respectively in downtown Victoria or Sidney.
While a dozen or so RV Campgrounds are available in the area, we prefer Fort Victoria RV Park, located about 20 minutes from downtown Victoria. When we contacted them mid-November, their 120 transient, full-service sites were nearly full.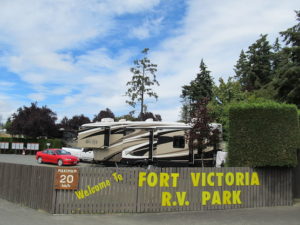 Fortunately, the friendly staff person was able to shuffle some later arrivals to accommodate us through April. Over half of our neighbours were from other provinces where below-freezing winter temperatures make RV living unbearable. Collectively, we might be considered a unique breed of snowbirds: those who escape winter's wrath without migrating all the way to the Sunbelt!
Average temperatures in Victoria seldom get below freezing during the winter and snow accumulation is rare. That said; the winter of 2016-17 was the coldest and snowiest in 20 years. Dampness was our primary concern, evidenced by moisture and mold buildup on our windows and walls. To solve this problem, we purchased a dehumidifier, which together with two small ceramic heaters and our electric fireplace allowed us to be comfortably dry and warm throughout our stay.
Getting acquainted     Whenever we arrive in a new city, we take a bus tour to give us the lay of the land. We also stop by a Visitor Centre to find out "must do" activities.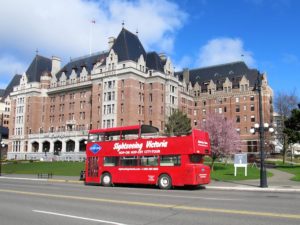 For our tour, we chose Gray Line's double-decker British-style bus. This 90-minute hop-on hop-off excursion provides an overview of the city's major attractions, beginning at the iconic chateau-style Fairmont Empress Hotel. From there, we meandered slowly through Chinatown, the oldest in Canada, and stopped briefly at Fisherman's Wharf, Oak Bay Marina, Beacon Hill Park, Craigdarroch Castle, and other historic or scenic locations. Running commentary provided a wealth of information about Victoria's early days as a fur trading post and frontier town for gold seekers and coal miners to its current status as the capital city of British Columbia.
Victoria has one of the most beautiful harbours in the world with a well-protected marina and a walkway where buskers entertain to the delight of visitors and locals alike  In addition to our bus tour; we took a 45-minute boat excursion with Victoria Harbour Ferry. Our informative captain spoke about early uses of the harbour, including fishing, logging, shipbuilding, fur trading, and even soap making.
Once fertile shorelines populated by First Nations are now chockfull of plush hotels, high-rise condos, colourful float homes, commercial piers, and terminal buildings. Passengers disembarking from seaplanes, ferries, and cruise ships can enjoy this delightful city by visiting waterfront attractions or by browsing through countless one-of-a-kind shops, boutiques, and galleries in the downtown area.
In the 1920's, the city became a popular retirement destination, so much so that Canadian writer Pierre Burton unkindly called Victoria "the place where old people go to visit their parents." No longer! According to the 2016 Canadian census, less than 20% of Greater Victoria's population of nearly 370,000 is made up of retired seniors, which increases slightly in winter because of the influx of snowbirds. "Greater Victoria" includes 13 outlying municipalities while the city itself has a relatively small population of 85,000.
At the downtown Visitor Centre, I asked the receptionist: "What are Victoria's two most popular outdoor and indoor activities for visitors during the winter months?" Without hesitation, she replied, "the Butchart Gardens and whale watching for outdoors; the Royal BC Museum and a tour of the Parliament Buildings for indoors." She then provided a bundle of brochures that would keep us in exploratory mode the entire winter.
 OUTDOORS
Butchart Gardens   American poet Ralph Waldo Emerson said, "The earth laughs in flowers." Nowhere is that laughter more plentiful than at Victoria's century old Butchart ("Butch-art") Gardens that delight over a million visitors annually. In early spring, 55 acres of flowering bulbs, including tulips, daffodils, and hyacinths, are showcased amongst colorful shrubs and trees, providing a kaleidoscope of colours. A self-guided tour allowed us to leisurely explore five separate gardens – the Indoor Spring Prelude, Japanese, Italian, Sunken, and Mediterranean – each immaculately landscaped with an array of annuals, streams, and fountains. Hard to miss is the tall chimney overlooking the Sunken Garden (remnants of a quarry) that provides a stoic reminder of the garden's past as a cement factory.
Snowbirds are doubly fortunate in being able to visit this National Historic Site during the winter holiday season. For five weeks, thousands of colourful lights and dozens of larger-than-life figurines representing "The 12 Days of Christmas" provide an awe inspiring and magical experience. Our favourite was "The Fourth Day of Christmas," represented by four calling birds … each with a cell phone! Lace up the ice skates and glide across the outdoor rink to the sound of seasonal music, or ride one of 30 hand-crafted animals on the indoor carousel – for children of all ages. Finish up with a hot chocolate, casual fare, or fine dining at one of several eateries, listen to carolers or festive brass, and pick up a souvenir from the gift shop.
 Whale Watching     In 2010 Travel and Leisure magazine named Vancouver Island, "One of North America's best whale watching spots." We chose SpringTide's 3-hour tour because of their "top rating" by TripAdvisor, 23 years experience, and It's-A-Fluke Guarantee: If we don't see a whale, we can go out again on another day free of charge.
Leaving mid-April from the marina in downtown Victoria on their comfortable covered boat (with hot drinks and a toilet), our very knowledgeable skipper and crew provided commentary on marine life, including the migration routes and feeding habits of the whales we were all eager to see.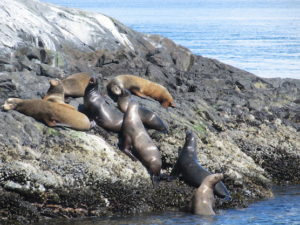 The skipper maneuvered close to clusters of seals and sea lions basking on sunny islets, eagles and various sea birds, and even stopped in a bed of bull kelp so that we could taste the leaves, which if mixed with shrimp would make a yummy salad – no salt needed!
Winter is considered "off season" for whales but several tours the previous week saw pods of Orcas, and a few Humpbacks, Grays, and Minkes as well as porpoises playing in the bow wake. Unfortunately, we saw none. No worries! SpringTide's guarantee would give us another chance to enjoy the rugged beauty of BC's coastline and diverse marine life; perhaps this time on one of their speedy Zodiacs for an adrenalin-pumping adventure … whales guaranteed.
Other winter outdoor activities include kayaking, canoeing, Stand Up Paddle boarding, and dragon boating on saltwater inlets; fishing, sailing, and eco charters; golfing; and hiking and biking on the extensive array of trails throughout the city.
INDOORS
Royal BC Museum      Established in 1886, this multi-story museum was rated by TripAdvisor as the best of 15 historical and art galleries in Victoria. We spent a full day learning about the natural and human history of Victoria and British Columbia. A first-nations gallery presents artifacts and information about their cultures and ultimate conflicts with European settlers. A separate gallery illustrates how British Columbia was shaped by pioneers, evolving into the economic and political structures of the 21st Century.
Another gallery, with expansive life-like dioramas, highlights the impact of Nature over the years, from the Ice Age of wooly mammoths to the abundant forests and changing river deltas of present day landscapes. Interactive exhibits are fun and educational for both children and adults. Temporary exhibits borrowed from other museums have recently included "The Titanic" and "Giants of the Ice Age."
During our visit, the temporary exhibit was devoted to Canadian "Terry Fox" who, after losing his right leg to cancer, intended to run across Canada to raise money for cancer research. In 1981, 21-year old Terry dipped his prosthetic leg in the ocean at St. Johns, Newfoundland, commencing his "Marathon of Hope" run. He completed a marathon distance (26 miles) every day for 143 days while inspiring a nation with his courage, integrity, and determination.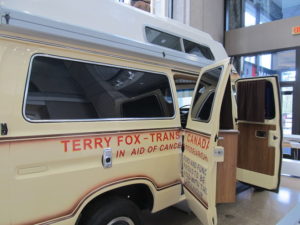 Photographs, maps, videos, and various artifacts such as his iconic Ford support van, prosthetic leg, worn out runners, and his personal diary capture a day-in-the-life of his run, his interactions with adoring fans and famous Canadians, and the heart-breaking end at Thunder Bay, Ontario when cancer spread to his lungs. Although he died within a year, his legacy lives on in annual Terry Fox runs throughout the world, at last count raising over $700 million in Canada for cancer research. To quote this true Canadian hero, "Dreams are made possible if you try."
Within the Museum is another educational and entertaining experience, an IMAX theatre with a 6-story-high screen – the largest in British Columbia. We watched a documentary entitled "Extreme Weather," which realistically captures the deleterious effects of climate change: sky-scraper chunks of ice plunging into the ocean off retreating glaciers in Alaska; buildings and vehicles scattered like matchsticks by violent tornados in Oklahoma; and miles of drought-stricken timber devoured by raging fires in California. We were so entranced by the surround sound and crystal-clear images; we forgot to eat our popcorn!
 Parliament Buildings     Directly across the street from the Museum are the majestic parliament buildings, the seat of government in British Columbia since 1898.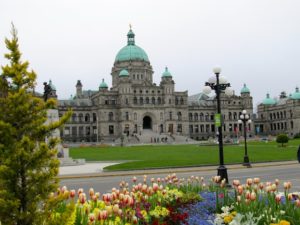 Guided tours provide visitors with details about the original construction and unique architectural features such as symbolic stained-glass windows, an octagonal copper dome, marble columns, and hardwood panels. Our tour guide showed us the regally appointed Legislative Chamber where elected officials meet to discuss proposed laws, budgets, and issues that may impact their constituents. After our tour, we interacted with several video exhibits to learn more about famous Canadian politicians, entertainers, and humanitarians.
Victoria has an endless variety of other indoor activities for winter visitors. Whether it's playing tennis, pickleball, or curling, exercising at a community rec centre, or just delighting in the entertainment and cultural scene, there is something for every RVer. Monday Magazine lists daily activities, ranging from folk music and Beethoven concerts to craft shows and beer festivals. For foodies, there is no shortage of restaurants, more per capita than any other Canadian city, from casual pub fare to elegant 5-star dining. And as might be expected in a British inspired city, Afternoon Tea is oh so popular – many restaurants offer a variety of teas combined with gourmet savoury and sweet pastries.
To sample this tradition, we visited The Teahouse at Abkhazi (Ab-kazi) Garden and devoured three tiers of delicate finger sandwiches, quiches, and pastries, all in an intimate dining room overlooking a beautifully landscaped garden.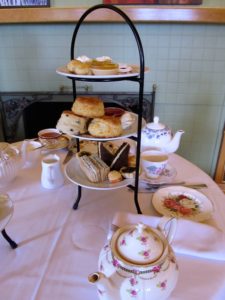 A choice of exotic teas is served in fine china pots and cups; with advanced notice, their regular decadent menu offers gluten-free and vegetarian options. Victoria, because of its many charming, whimsical, and lovingly tended gardens, is deservedly called the "City of Gardens." Afternoon Tea at Abkhazi Garden provides a truly memorable experience for both body and soul.
Returning to our question, would we consider staying in Canada a viable option to going south in the winter? We would indeed, at least in Victoria, given the abundance of activities for visitors. And to our surprise and delight, we found the greenery, cool temperatures, and even the rain and snow a refreshing alternative to the barren desert landscapes and the hot, dry conditions that we typically encounter down south. Also, we enjoyed some activities that simply aren't available down south, such as curling, dragon boating, and making a snowman!
Other nice touches included the presence of typically migratory birds – hummingbirds, robins, and geese – and the springtime blossoming of cherry trees scattered throughout our Park and lining many city streets. On the practical side, our Canadian dollar was only worth about 70 cents US this year, so we no doubt saved money by spending it in Canada. Conversely, one RVer from Montana commented that he was delighted with the purchasing power of the US dollar. As he put it, "More bang for the buck!"
All things considered, snowbirding in Victoria was such a positive experience; we're seriously considering hanging out with the non-migrating flock again next winter!
For more information:
 BC Ferries    http://www.bcferries.com
US Ferries    https://www.cohoferry.com        http://www.wsdot.wa.gov/ferries/
RV Parks    http://www.rvparkreviews.com/regions/british-columbia/victoria
Tourism Victoria    http://www.tourismvictoria.com
Victoria bus tours    http://sightseeingvictoria.com
Royal BC Museum    http://royalbcmuseum.bc.ca
BC Parliament Buildings    https://en.wikipedia.org/wiki/British_Columbia_Parliament_Buildings
SpringTide whale watching tours    https://www.victoriawhalewatching.com
Victoria Harbour Ferry tours    https://www.victoriaharbourferry.com
The Teahouse at Abkhazi Garden   https://www.abkhaziteahouse.com