Mention "Sonoma" and most people inevitably think of California wines. And well they should. Nearly 300 wineries and a thousand vineyards blanket the gently rolling hills of Sonoma County just north of San Francisco. "The sight of mile after mile of grapevines, in shimmering shades of gold and burgundy, is breathtaking," reported a fellow RVer who had visited this area last fall. We decided to see for ourselves during our November getaway from chilly British Columbia to warmer climes. From California's Highway 5, we diverted west to the town of Rohnert Park, centrally located between Sonoma Valley, the redwood forests, and the Pacific Ocean. Each of our day trips would be within a half-hour's drive of our home base at Wine Country RV Park.
Our first stop was the California Welcome Centre in Santa Rosa. What my wife Sandy and I learned is that Sonoma County is more than its fabled vineyards, offering a host of visitor options: adventure tours, natural beauty, cultural and historic sites, eclectic eateries and shops, and of course multiple wineries for wine tasting, known locally as "corkhopping." While in Santa Rosa, we visited several recommended attractions: historic Railroad Square, a collection of specialty shops with turn-of-the-century architecture and old-town allure and hospitality; the Charles M. Schultz Museum, a fun place depicting the life and works of this celebrated cartoonist and his Peanuts characters; and the Vintners Inn, a luxury hotel displaying splendid Spanish architecture and beautifully landscaped grounds, set among fields of vineyards.
While walking through a courtyard at the Vintners Inn, we struck up a conversation with the Inn's sommelier, a person trained in the serving of wine. I asked if he could recommend a winery tour and he immediately suggested "Korbel Cellars," which not only produces the world famous Korbel California Champagnes, but also provides free tours and samples. Most wineries charge for these services, usually $10 for four or five samples, although many offer two-for-one coupons. The next day, we drove from Santa Rosa on River Road, a winding two-laner, which according to our Visitor Guide "has been compared to driving through Tuscany for its magnificence." Undulating hills, towering redwoods, and vast stretches of vineyards greeted us around every turn as we followed the Russian River to the Korbel winery in Guerneville.
Kathy our tour guide provided a brief history of the three Korbel brothers who emigrated from Czechoslovakia in the mid 1800's and eventually settled in the Russian River Valley. After several business ventures, they began to appreciate that the region's micro-climate and soils were ideal for cultivating grapes, and so they did, focusing on pinot noir and chardonnay, the two main varieties used in their champagne. Many of the early methods of producing champagne, such as inducing the in-bottle fermentation of the wine to effect carbonation, were done by hand using crude and labor-intensive mechanical devices. Nonetheless, their business thrived and production increased dramatically, at least until Prohibition put a temporary halt to the sale of alcoholic beverages. Their first case of champagne produced after the repeal of Prohibition was sent to Franklin D. Roosevelt … "with our regards." Incidentally, the name "champagne" cannot be legally applied to wines made outside the Champagne region of France. However, the label "California Champagne" seems to sidestep that technicality quite nicely, even though some states such as Oregon ban producers from using the term when referring to sparkling wine.
Just a few miles further west and north of Guerneville is Armstrong Redwoods, a State Natural Reserve containing over 800 acres of coastal redwood trees. This reserve can be accessed by auto for a small fee, but we chose instead to walk through these stately giants, an experience warranting humility and reflection. A short distance from the parking lot is the tallest tree, "Parson Jones," rising to 310 feet, as well as the oldest tree, "Colonel Armstrong," estimated to be over 1400 years old.
A display showing historical events superimposed on the rings of a cross-section of trunk puts this longevity into perspective. The center ring, when the tree was just a sapling, was formed before Leif Erickson discovered America in 1000 AD. When the California Gold Rush occurred in 1849, some of these trees were already 800 years of age. At that time many were chopped down to provide lumber for the burgeoning population, but this particular forest sanctuary has remained intact thanks to the foresight of Colonel James Armstrong, a 19th century lumber baron who purchased much of this dense redwood forest to preserve it for future generations.
Around mid-week we were looking forward, with some trepidation, to our pre-booked Segway tour of Sonoma, an historic town nestled in its namesake valley. Hunt, our tour guide and owner of Sonoma Segway, began with some hands-on instruction. "Gently lean forward to go forward and back to go backward. Tilt the handle slightly left or right to turn, and stand upright to stop; it's actually quite simple." And it was … within 10 minutes all four riders in our group were zipping confidently around the parking lot.
Our first stop was the Gothic-style home of a Mexican general, Vallejo, who was sent here with troops in 1834 to prevent Russian expansion from nearby Fort Ross. At that time, this area of California was claimed by Mexico. Nearly ten years later, a small rag-tag group of American frontiersmen took over Sonoma and raised a homemade flag, the Bear Flag, which has since been incorporated into California's state flag. But their revolt didn't last long. Just 26 days later, American troops were deployed to claim the territory as part of the United States, replacing the Bear Flag with the Stars and Stripes.
We leaned-forward for several miles on a wide, sun-dappled path beneath gigantic eucalyptus trees. Periodically, clusters of people watched us glide by in joyful amazement, as if we were on magic carpets. Our next two stops, Gundlach Bundschu and Buena Vista wineries, were opportunities to learn about wine making and to swirl, sip, and smile. A cute card at the former winery described a Sonoma Valley Sobriety Test: "If you can't say 'Gundlach Bundschu Gewurztraminer,' you shouldn't be driving!" I pretended to be a connoisseur by swirling and commenting on the "legs" of the wine; that is, how long it clings to the glass. Our server disputed my assumption that longer legs indicate higher quality. "Not so" he said, "viscosity maybe, but not quality." I couldn't wait to share this tidbit with fellow RVers at our next Happy Hour.
Later, pausing beside a vineyard, Hunt encouraged us to sample some freshly picked grapes to appreciate why winemakers dispose of the seeds. Biting into a plump red grape, the sweet juices excited my taste buds; however chewing on the seeds produced a pungent taste, more akin to old leather than a fine wine.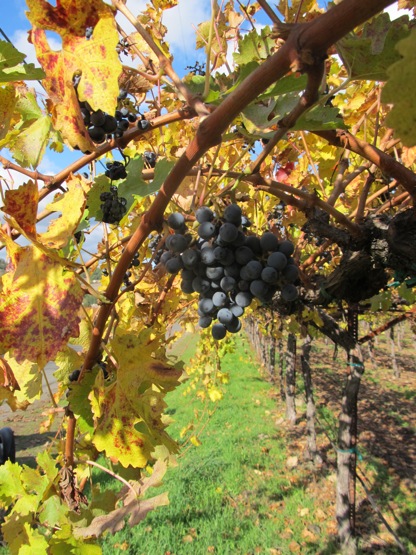 Our final stop was the sturdy stonewalled building housing the Vella Cheese Factory where, since 1931, the Vella family has been making cheese by hand. Our visit concluded in their small storefront, nibbling away on a variety of their award-winning cheeses, including Asiago, Cheddar, and Habañero Jack. They were so delicious we ended up purchasing a couple of packages. By the end of our tour, we all felt like Segway pros, just as Hunt had predicted. What a fun and informative way to spend a few hours, topped off with a complementary bottle of wine to boot.
Afterwards, we explored the cobbled alleyways surrounding the town's plaza, poked through quaint shops and art galleries, lunched at a friendly pub, and sampled fudge, gelato, and chocolate truffles. Adjacent Mission San Francisco Solano de Sonoma is one of the last established Franciscan missions in California, completed in 1825. It is also the oldest building in Sonoma and has since become an historic landmark.
The next day, we returned to the Sonoma Valley to tour Benziger family winery in Glen Ellen, which according to the Wine Spectator, "may be the most comprehensive vineyard tour offered by any winery in California." Mike, our tour guide, took us by tram up into the vineyards, stopping on a panoramic overview to explain their environmentally-friendly approach to wine making: using biological pest control rather than insecticides, and compost rather than artificial fertilizers in their quest to produce the finest grapes. We then moved on to the processing area to learn how their wine is made. When the grapes are ripe, usually in September, they are immediately hand picked and crushed. The resulting juice is fermented in large stainless-steel vats and then transferred to oak barrels for the aging process. Underground caves are used to store the wine for up to two years at constant temperature and humidity levels. Finally, when the wine has suitably matured, it is filtered, bottled, and packed for shipping, or in our case for sampling. We were so impressed with these organically grown wines that we ended up purchasing a dozen bottles, to pair with the tasty cheeses we had bought earlier.
Also in Glen Ellen is Jack London State Historic Park, which includes the famed author's beloved ranch and 800 acres of spectacular land on which he spent his final years, from 1905 until his death in 1916. A well-maintained path leads to his gravesite. To return to our campground, we took a shortcut on Bennett Valley Road winding our way through magnificent canyons and hillside vineyards, all in full fall splendour. This road with several narrow sections and sharp turns is not suitable for large rigs.
The Pacific Ocean beckoned so we drove out to the beautiful fishing village of Bodega Bay. This town and the nearby hamlet of Bodega provided the setting for Alfred Hitchcock's thriller "The Birds" produced in 1963. Sandy, who watched this movie as a child, said it "scared her stupid" … her words, not mine! St. Teresa's Church and the memorable white schoolhouse are still there, although the latter is currently a private residence. We had lunch overlooking the expansive bay at the Tides Wharf Restaurant, where Hitchcock aficionados can read relevant news articles and view photos of various scenes shot in the movie. The sandy beaches, rocky coastline, and crashing waves north along Highway #1 provided many photo opportunities, although I never quite managed to get a flock of angry birds in any of my pictures.
Our final day included a visit to the small town of Healdsburg, its Spanish-style plaza bordered by trendy restaurants, antique stores, art galleries, jewelry stores, and of course, wine-tasting rooms. Wine is very popular here; whining is not: everyone we met was friendly and upbeat. We were so captivated by its charm that we ran out of daylight before we had a chance to drive up into the mountains for a reported bird's-eye view of the Russian River Valley.
A week wasn't long enough to see all that Sonoma County has to offer, but it did provide a taste that would tempt us to return – in the fall, when the colours are indeed breathtaking. Not only did we acquire a barrel full of memories, we also headed south with a case of fine wines to share with fellow RVers. I'm sure we'll be extra popular this winter because of our little side trip.
FOR INFO:
California Welcome Center, Santa Rosa:  www.visitsantarosa.com
Sonoma Segway Tours:  www.sonomasegway.com
Sanoma County Wineries:  www.sonoma.com/drink/