NOW WE ARE ALWAYS ON HOLIDAYS
I just can't shake the feeling of being on holidays. You know, that carefree, happy feeling deep inside that you get when everything is right with the world. Being on holidays seems to bring out the excited and curious child within. I've gotten this feeling many times during my adult life while holidaying in the Caribbean, Hawaii, Mexico, and other exotic places. But it always fades when the holiday is over and life gets back to ordinary.
But guess what? And here's the best part … I've got the feeling, but I'm not going back to ordinary. I'm what they call in the RV vernacular, a "fulltimer." Although I retired eight years ago, I was still stuck in ordinary, enjoying my annual holiday as much as I always had while working. But after the holiday, I'd return to my domestic duties of cutting grass, weeding, vacuuming, washing floors and windows and a "honey-do" list that seemed endless. What's wrong with this picture? I'm officially retired but spending most of my time working.
THE BIG DECISION
One day, my wife Sandy and I met another couple that, two years earlier, had downsized from a house to a travel trailer, without regrets. They were thoroughly enjoying their life on the road and wished they had done it sooner. After much deliberation, we sold our house and furniture, held a garage sale, and donated everything else that wouldn't fit into a 5′ x 10′ storage shed. Our new residence consisted of a 38-foot fifth wheel trailer with three slide-outs, providing nearly 500 square feet of living space and all the comforts of home: a king-size bed, TV, fireplace, AC, washer/dryer, microwave, separate shower and lots of storage. The only thing it didn't have was a house number. Make no mistake, such a major lifestyle change had some of our friends doubting our sanity, but an equal number were not only supportive but also somewhat envious, wishing openly that their lives could be similarly embellished with more adventure. "Take me with you" typified this group.
Over the years, we owned several motorhomes that we used for brief camping trips, but this was different: we no longer had a fixed address, permanent neighbours, or a chore-based routine. We were foot-loose and fancy-free with the world as our oyster. We referred to it as "Our Big Adventure."
SNOWBIRDING
In late October we packed everything we might need, including our dog and cat, into our pickup truck and trailer. We now had a choice to make. We could stay in our hometown on the coast of British Columbia where winters are cold, wet and dreary; or, we could head to balmier latitudes with sunshiny days and stay at an RV resort. This proved to be a no-brainer! The only question was, where? We have family, including a 4-year old great niece, in Phoenix, Arizona, so our Internet search focused on this area.
Viewpoint RV Resort in nearby Mesa seemed to jump off the computer screen. Rated by American Travel Parks Association five years ago as the "Best RV Park in the Nation," it offers just about everything: golf, tennis, softball, shuffleboard, swimming, dinner shows, and dozens of clubs and classes to stimulate or relax minds and bodies. Our plan was simple. Take a leisurely month to get there, spend December through March at the Resort, and take another month to return to British Columbia. Our health plan requires us to return to Canada within six months.
HELPFUL HINTS
As neophyte RVers, we learned some things about life on the road that may be worth sharing with others considering this lifestyle:
RVers, like cruising sailors, easily bond with fellow travelers, sharing knowledge, experience and copious amounts of wine and cheese, not unlike caring friends and family. "Happy Hour" is popular in most extended-stay RV Parks, lubricating the bonds between travelers. "It's 5 o-clock somewhere," "free beer – tomorrow" and "wine a little" signboards and pennants are commonplace.
"Enjoying the journey as well as the destination" can be hampered by time commitments. On our travels through Oregon, we diverted west from I-5 at Eugene to explore the coast. The majestic scenery and quaint villages deserved more exploration than our allotted week allowed, causing an annoying sense of urgency to get somewhere else when we wanted to spend more time there.
Campsites, both private and public, are liberally scattered across the countryside so that we were never far from an overnight stop. But, we discovered some free options as well. Our favourite was Casino parking lots, which are only free if you manage to stay out of the Casino! In Canada, most Wal-Mart stores allow overnight parking but in some States, signs and security personal advised otherwise. Sometimes necessity found us a free site in the parking lot of a movie theatre, health club, fairgrounds, a residential street or truck stop (bring earplugs), and, of course, anywhere on the desert in a town called Quartzsite, Arizona. We always sought permission to overnight before doing so. Our list of invitations from fellow RVers may provide additional free sites on future trips.
Fuel prices vary widely from state to state and even between different service stations within the same city. Truck stops seem to have the lowest rates so we always filled up when we came across one.
Don't leave home without a GPS. This little gizmo, sitting on our dashboard, was worth its weight in gold, helping us navigate city streets, find casinos, truck stops, RV parks, restaurants and even a pet hospital on one occasion. "Andy" (a favourite uncle who was an inveterate back-seat driver) kept us from getting lost more than once with his constant reminders of where and when to turn. If we missed the turn, he would "recalculate" the next shortest distance to our destination.
FUN IN THE SUN
During our stay at Viewpoint, we enjoyed not only the beautifully landscaped Park and the friendly family of RVers, but outings as well: stage shows at nearby venues, funky Old West towns and upscale shopping centres, professional hockey and basketball games, mountain biking in the picturesque desert hills, hiking to Geronimo's Cave, and the list goes on.
Viewpoint's Activities Bulletin Board posted 45 different organized events during one typical week. Oh, don't get me wrong; our new lifestyle is not all fun and games … our chore list of cleaning floors and dumping holding tanks takes about an hour each week. As for washing the trailer, we hope to do that on the next cloudy day when not much else is happening! Of course, we're only as busy as we want to be. Sometimes we just kick back by the pool with a cool one, watching another deliciously pink and mauve sunset framed by towering palms.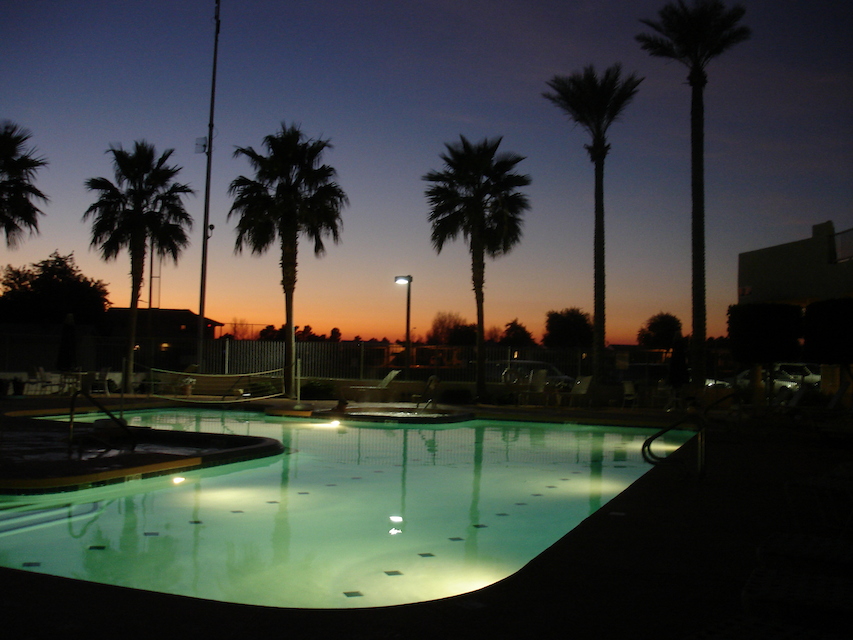 EXPENSES
Given the harsh economic times, a number of campers we spoke to have sold their homes, downsized to RVs, and reside permanently in campgrounds. Homes cost more to purchase, insure and maintain than RV's. The major expenses of RVing are fuel, campground fees and activity fees, which can be controlled to fit almost any budget.
Studies have shown that RVers can live comfortably on less than $2000 per month. Those who spend more are likely traveling more, staying at fancier resorts and participating in more activities such as golf, eating out and sightseeing. Spending less might mean staying in the desert at Quartzsite for an extended period, hunkering down with reading materials and video games. And that type of R&R is thoroughly enjoyable for some campers. We suspect that most full-timers will match their lifestyle to their budget. To date, our expenses are pretty much what they were previously. So when someone asks whether RVing is more or less expensive than house-bound living, we answer, "it costs pretty much the same, but it's a heck of a lot more fun."
OUR NEXT BIG ADVENTURE
After returning to BC, we plan to stay just long enough to reconnect with friends before setting off on a coast-to-coast tour of Canada. Our next Snowbird adventure will take us south along the eastern seaboard, keeping pace with the changing foliage in advance of winter. Heeding my own advice, we won't commit to arriving somewhere at a predetermined time. If we get there, we do; if not, we'll just relax and enjoy the journey. After all, we're on holidays!
FOR INFO
Viewpoint RV Resort
Phone: 1-800-822-4404
Website: www.viewpointrv.com