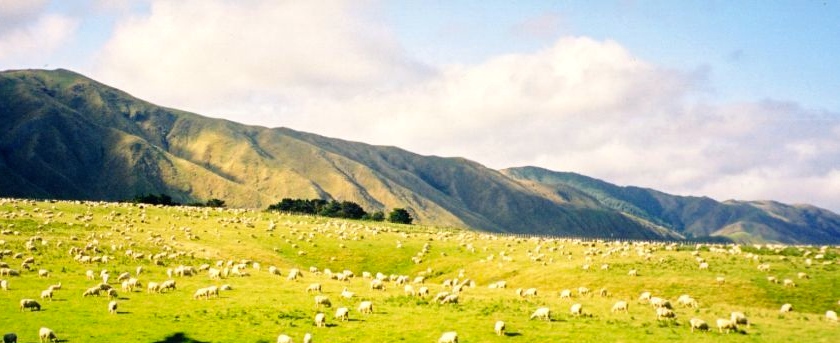 We had just finished dinner in the Auckland Sky Tower's 190-meter-high revolving restaurant.  The food was sooooo good; we wanted to lick our plates! And the views breathtaking – islands, harbours, volcanoes. This calls for a toast … Kia Ora!
Sandy and I were married 25 years ago in Canada and often talked about visiting New Zealand. Our anniversary was coming up in March 2002, late summer "down under." If there was ever a time and a place to celebrate, it was now … there. And to make it even more memorable we would stay in places with character. Superior Inns' specially selected B&B's offer accommodations throughout New Zealand. We would stay with them, visiting major attractions on the North Island between Auckland and Wellington.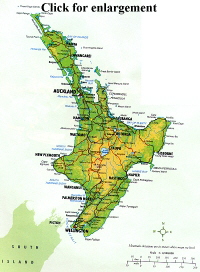 Auckland, City of Sails
We flew Air Pacific from Vancouver to Auckland with stops in Hawaii and Fiji. Leaving the airport in our rental car, we were immediately challenged: Kiwi's drive on the opposite side of the road than we do back home. No worries; signage was excellent and other drivers were courteous – as if they knew! Auckland is a sprawling metropolitan city; over 1.3 million people, one-third of the country's population, live there.  It is aptly named the "City of Sails" because it has more boats per capita than any other city in the world.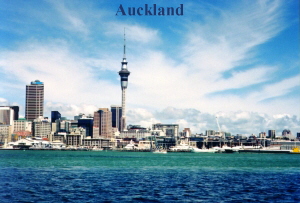 We would spend our first three nights in an elegant Edwardian-style home, the Devonport Villa Inn. Our hosts suggested things to see and do, starting with a bus tour of the city to get the big picture.  We should peruse the waterfront, book a sail on an America's Cup boat, and visit the Yacht Squadron to see the prestigious America's Cup, won by the Kiwi's in the last two competitions. The Auckland Museum was also a "must do."  These we did, and more, browsing boutiques, exploring volcanoes and kicking back on fine sand beaches all within a stone's throw of our Villa.
Rotorua, a thermal wonderland
On our fourth day, we drove a few hours south to Rotorua, renown for its thermal and cultural activities. Each of our remaining accommodations would be for two nights, starting with Clover Downs Estate, a country homestead overlooking Lake Rotorua. From our veranda, we could see a small herd of deer, grazing in a verdant pasture. The next morning, our hosts answered all our questions about breeding and raising deer. They also own a couple of ostriches. Did you know that one ostrich egg is equivalent to 22 chicken eggs, and that an ostrich's brain is smaller than its' eye?
In the afternoon we visited attractions in Rotorua starting with the Blue Baths, an elegant and romantic spa retreat during the Depression. After a swim in their thermally heated pool, we savored the refurbished 1930's ambience while "taking tea" served with fancy cakes on an antique tea trolley.
The adjacent Museum of Art and History provided a glimpse into the antiquated thermal baths and odd sorts of therapeutic interventions practiced therein. A treatment for rheumatoid arthritis involved receiving electric shocks while sitting in a shallow bath of "strongly alkaline sulphurous water!" Other exhibits told the proud and moving story of the Maori people who lived in NZ hundreds of years before the Europeans arrived. Outside, the Government Gardens' croquet lawns, bowling greens, and rose bushes provided the perfect setting for a relaxing stroll.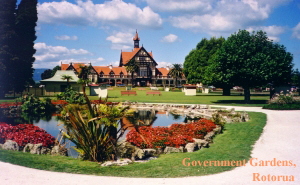 Wai-o-tapu, RotoruaUniquely Rotorua is the vague scent of sulfur wafting from its ubiquitous mineral springs. To experience this geothermal activity on a grand scale, we drove to Wai-o-tapu for a self-guided tour of spouting geysers, plopping mud pools, delicately formed terraces, and steaming hot springs.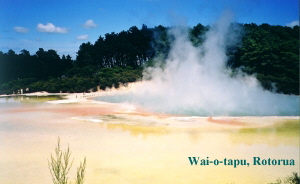 A Maori cultural experience awaited us through Tamaki Tours, a commercial operator offering a journey back in time. For several hours, we visited a Maori village alive with tribal songs, dances, and games followed by a Hangi (feast) cooked the traditional way in an earthen pit of hot rocks. Later that evening, I freaked out Sandy with a Haka (war dance) in our bedroom!

Two hours west of Rotorua are the famous Waitomo Caves, limestone caverns with magnificent stalactites, stalagmites, and other cave decorations.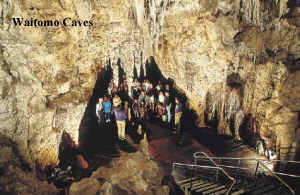 Quietly floating through darkness in a small boat, we observed thousands of tiny lights overhead resembling the night sky. Each was a small insect that emits light to attract food. Interestingly, the insect only feeds during the nine months of its larval stage. Once the adult emerges from its cocoon, it mates and dies within a few days, as it has no mouth with which to eat!
Mt Taranaki
Continuing south from the caves, we drove along the very scenic Anakino River. Towering in the distance was Mt Taranaki, a cone-shaped mountain resembling Mt Fuji in Japan. Our accommodation was Anderson's Alpine Lodge, perched on its eastern slope. Our rustic but elegant room was in a Swiss-style chalet, providing picturesque views of the mountain.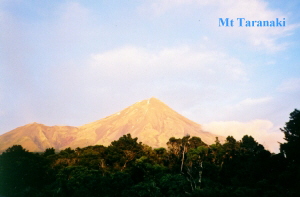 Various native birds, Tuis and Bellbirds, sang outside our window adding to the refreshing alpine atmosphere. Tramping (hiking) is a popular activity for visitors to this region. Numerous tracks beckoned, from an easy 15-minute walk through a moss-draped Goblin forest to a more challenging five-hour climb above the tree line to the summit. The views were spectacular, from a majestic waterfall and rugged gorge to the seacoast beyond. Afterward, we looked forward to soaking in our private spa and relaxing on the balcony. Dinners were served in the nearby Mountain House Lodge overlooking a floodlit bush setting. The food was exquisite. I even ate the native flower presented with my Riz Cazimir – traditional Swiss curried chicken with fried fruit. We raised our glasses in a celebratory toast: "Kia Ora" (key-or-ah), a Maori greeting meaning "hello" or "good health."
We bade farewell to alpine heaven and proceeded down the coast through New Zealand's dairy country. An hour's drive brought us to Hawera, site of the largest milk-processing plant in the world. The Dairyland Display Centre provides informative audiovisual and interactive displays about the development of the dairy industry. Their café served a thick fruit smoothie that I rated best-in-the-world (although my research is still ongoing).
Waikanae
Our next accommodation was Waimoana, a contemporary home overlooking the coastal village of Waikanae. Upon arrival, we chatted with our hosts beside their indoor pool, garden, and waterfall. Kapiti Island, resembling a very large crocodile on the Tasman Sea, could be seen through the expansive glass façade of their conservatory.

This island is a protected wildlife reserve, a haven for birdwatchers. Access is limited to 50 visitors a day and advanced booking is essential.
Wellington, the Capitol City
The next day, we visited the very popular Te Papa (our place) Museum in Wellington. Exhibits tell the stories of New Zealand, its history, art, and natural environment. Leading-edge technology allows visitors to experience an earthquake, take a bungy jump, travel in time, skipper an early sailing ship and much more. For an enjoyable educational encounter, Te Papa is without equal in the world of museums.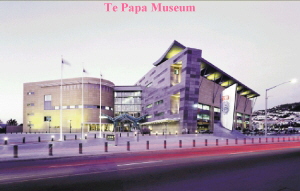 An historic cable car hauled us to a hilltop, overlooking the Capitol City and its magnificent harbour.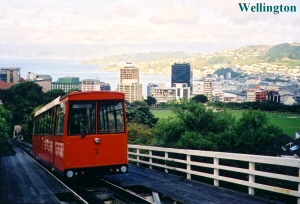 From there, we meandered through the tranquil Botanic Gardens with its enormous variety of native trees, bushes, and flowers: pine, beech, pohutukawa, and cabbage trees, succulents, ferns, rhododendrons, fuchsias, camellias, begonias, and roses, over 100 different kinds of roses.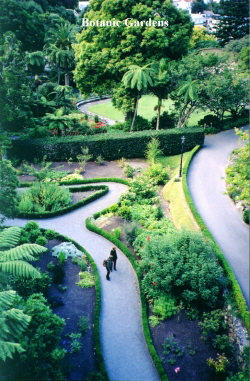 Our hunger steered us to Courtney Place, the entertainment centre of downtown, with more cafes per capita than New York City.
Napier, an Art Deco City
On our way to the resort town of Taupo, we took a self-guided tour of a unique art deco city. Destroyed by a massive earthquake in 1931, Napier was rebuilt in the style of architecture that epitomized the Jazz Age — angular patterns, sunbursts, zigzags, and lightening bolts. We had just missed a celebration of the art deco style with vintage cars, jazz concerts, a Great Gatsby picnic, and heaps more. Sandy purchased a 1930's CD and off we went, singing along to "Lullaby of Broadway" and "Jeepers Creepers."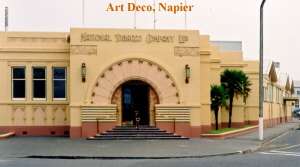 Taupo
Te Moenga ("the bed") is a country home overlooking Lake Taupo, NZ's largest lake. We stayed in a luxuriously appointed cottage with a grand Jacuzzi tub and king-size bed. The next morning, we awoke to a pastoral scene of sheep grazing outside our window. Later, we shopped in Taupo while other guests went fishing. They returned with a large trout, which was barbecued by our hosts and served with grilled veggies and some local Hawke's Bay wine – scrumptious.
One of New Zealand's most visited natural attractions is the spectacular Huka Falls on nearby Waikato River. A massive amount of water plunges through a narrow chasm – the equivalent of two Olympic-size swimming pools emptying every second.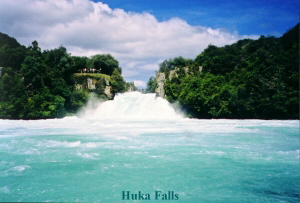 To better observe this wonder we took a 30-minute, heart-pumping, jet-boat ride. Our Huka Jet careened by cliffs and logs and spun 360's, drenching the gleeful passengers. Afterwards, we visited a Geothermal Power Project – about 5% of NZ's electricity is generated here by naturally produced underground steam. For lunch we dined on fresh shrimp cocktail at Prawn Park, the world's only geothermally heated prawn farm.
Aberfeldy, a couple of hour's northeast, is a large sheep and cattle farm that also takes in guests. Our hosts said they have many repeat visitors who enjoy helping with the chores. Earlier in the season, guests were helping with pregnancy scanning of the ewes. Later, they would be helping deliver the lambs.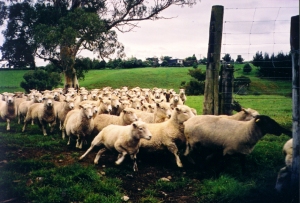 During our stay, we shifted livestock between pastures, mended fences, fed horses and cuddled their Kune Kune pig. We learned that New Zealand has 50 million sheep (over 12 per person), 10 million cattle, and over 50% of the land is devoted to pasture.
After our chores we took a self-guided tour of nearby Katikati, a "mural town" which has quality artwork on the sides of buildings depicting important aspects of its history. Originally settled by people from Ireland in 1875, it still retains a strong Irish presence with street names like "Highland Drive" and "Donegal Place."
Coromandel Peninsula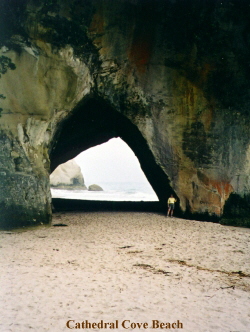 On our last day, we visited the famous Hot Water Beach in the Coromandel Peninsula. At low tide you can dig a shallow hole in the sand and lie in hot mineral water, seeping in from underground thermal springs. Since low tide was still a few hours away, we continued on to Cathedral Cove Beach.  This gigantic hole-in-the-rock is worth the 45-minute tramp.
We also drove to Shakespeare's Lookout where a monument honors Captain Cook, an English explorer who visited New Zealand on three different voyages in the late 1700's.  By late evening, we were back in Auckland at Jet Park Hotel, excellent accomodation conviently located near the airport.
Not over yet …
Our flight had a nine-hour layover in Fiji, enough time to visit the Sheraton Resort just a short taxi ride from the airport. This tropical island has several pools, seaside restaurants, flower gardens, tennis courts, a golf course and various water-sport activities.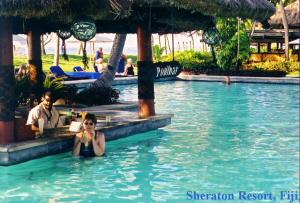 We swam, ate, and lazed in hammocks under palm trees, regretting that we hadn't scheduled a couple more days here. Our only other regret was that we hadn't taken a couple more weeks to explore the remainder of New Zealand's North Island.
And then there's the South Island, which many tourists told us is an absolute "must do." I reminded Sandy that our 50th is coming up in another 25 years … what better place to celebrate? She wasn't listening – too busy planning our 26th! Can you guess where?
Reasons to celebrate in New Zealand
One Canadian dollar buys $1.40 NZD (at the time of our visit)
It's safe: no predators, no snakes, no poisonous plants, no worries
The scenery is diverse and spectacular
The Kiwi's are very hospitable
The food is sooooo good, especially the seafood, lamb, and dairy products
FOR INFO:
Travel Information for New Zealand:  www.newzealand.com/ca/  (Note: Superior Inns no longer operate B&Bs)
Sheraton Fiji Hotel:  www.sheratonfiji.com