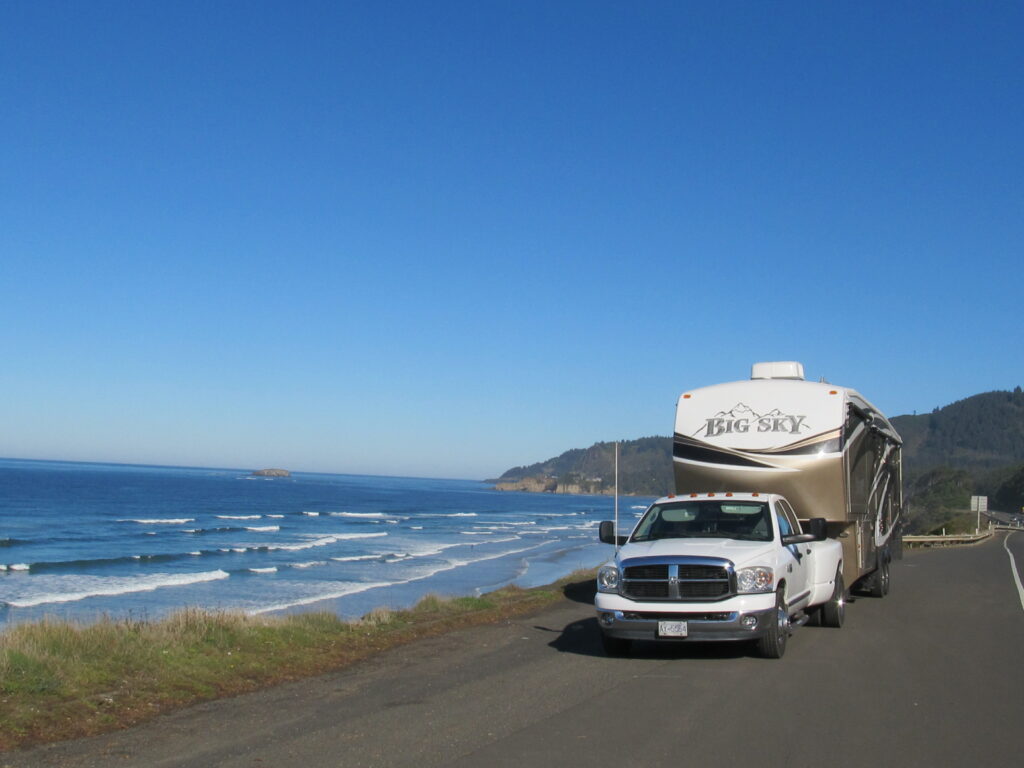 Each fall, my wife Sandy and I head south from British Columbia in our RV to spend the winter in Arizona.  Over the years, we've taken several routes through Oregon.  However, coastal highway 101, bordered by the Pacific Ocean to the west and the Oregon Coast Range to the east, is our favorite.  We take our time, seldom traveling more than a couple of hours a day, to enjoy the breathtaking scenery and the many activities and attractions along the 360 miles from Astoria in the north to Brookings Harbor in the south.  This article references just a few of the beautiful seaside communities that we visited during the fall of 2019. 
For RVers, several practical considerations are worth noting: over 80 state parks and recreation areas dot the Oregon Coast, as well as numerous private RV parks suitable for big rigs; free overnight parking is available at a few casinos and big-box stores; and the absence of a sales tax in Oregon makes almost everything, including fuel, less expensive than in either Washington or California.
Astoria, at the mouth of the Columbia River, is a port city reminiscent of a miniature San Francisco with rolling hills, a trolley car, boutiques, galleries, and upscale restaurants providing water views, where sea lions are often seen frolicking in the river. A prominent landmark is the Astoria-Megler Bridge, a 4-mile steel cantilever bridge that connects Washington and Oregon. This 200-foot-high structure allows freighters from around the world to access upstream ports, including Portland.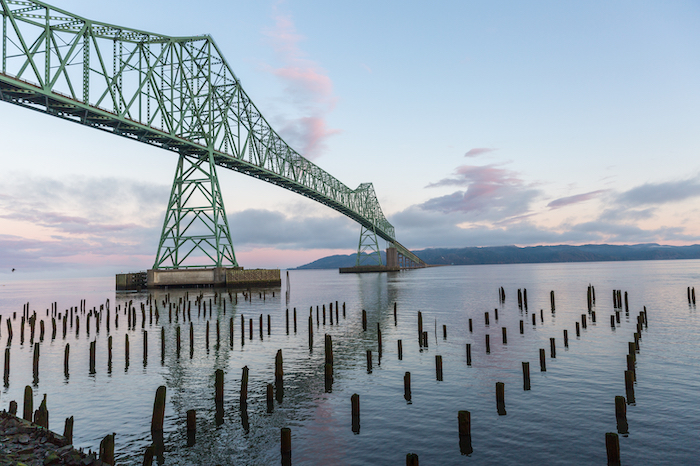 If you didn't get a birds-eye view driving across the bridge, consider visiting the Astoria Column, a 125-foot tower with an observation deck that offers expansive views of the city, landscape, and maritime environment.
A 20-minute drive south of Astoria is Seaside, one of our favorite locations to spend a few days.  This vibrant little community has a downtown promenade along the ocean with a statue of Lewis and Clark, marking the location where they ended their two-year exploratory journey in 1806 from the Mississippi River to the Pacific Ocean.  Several buildings throughout Seaside display colorful murals of historical events, everyday activities, and marine life.  A carousel and various amusement venues, including bumper cars and an arcade, are a delight for kids of all ages.  Seaside and several other coastal communities have museums, which provide an historical appreciation for Native Americans and early settlers; as well as aquariums that connect you to the sea and inspire ocean conservation. 
Many tourists enjoy the beaches all along the Oregon coast for relaxation, hiking, dog walking, and just marveling at the magnificent rock outcroppings, with names like Haystack Rock, Elephant Rock, and The Needles.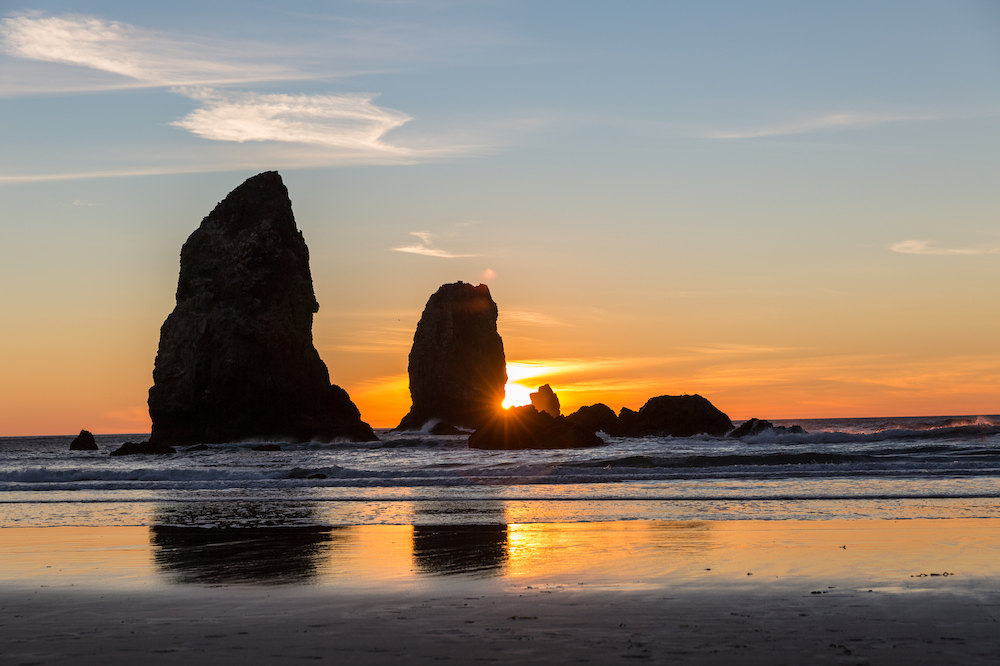 These rock formations date back 14 million years, the result of a massive eruption of lava inland that made its way out to sea.  Numerous sea birds such as terns and puffins nest in these larger rock structures just offshore.  Tidal pools are home to an abundance of sea life, including starfish, crabs, anemones, clams, and slugs.  Surfing, paddle boarding, and biking are very popular and various outlets provide equipment rentals.
In many coastal communities, some streets lead directly to the beaches, allowing motorists to drive their vehicles onto the sand, a practice I would not advise unless you have 4-wheel drive.  I got stuck once on an Oregon beach in my rear-wheel-drive pick-up truck (up to the rear axle in the sand) and had to recruit two truckers to tow me out, just before the high tide would have flooded my truck.  Be aware that laws prohibit overnight RV camping on all Oregon beaches, which is just as well as high tide could put a damper on your room with a view!
Tillamook, about 50 miles south of Seaside, is home to the Tillamook Cheese Factory, a very popular tourist attraction with a parking lot suitable for large RVs.  Spend an hour or so on a self-guided tour, which is not only informative but provides free samples of various cheeses.  Watch and learn how all of these products begin with cow's milk, become processed, and end up packaged for shipping to grocery stores throughout the country.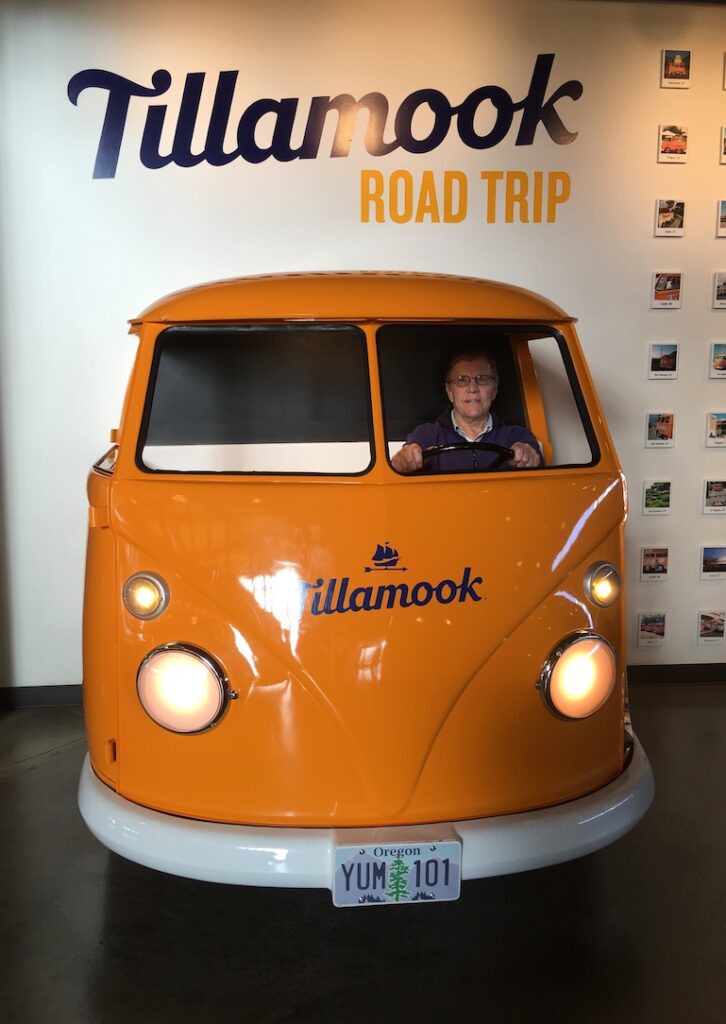 If you'd rather scream for ice cream, don't hold back as they have, in my opinion, the tastiest on the coast.  Their Visitor Center sells various cheeses as well as yogurt, sour cream, and a variety of memorable souvenirs.  We always pick up a package of fresh cheese curds for the road, which are usually gone before we get to California!
Another 50 miles south is the small, mostly residential community of Neskowin and a gated RV Resort, noteworthy for its cadre of rabbits of various sizes and colors. Many RVers feed them carrots on occasion so they just hop around, waiting for handouts. Kayaks and paddleboards are available for rental at nearby Pacific City for enjoying the beautiful and peaceful Nestucca River or the pristine bird estuary of Nestucca Bay. A noticeable landmark is Proposal Rock at the south end of Neskowin State Beach, which provides a short scenic uphill hike at low tide.
A short distance south is Lincoln City, with Chinook Winds Casino, outlet stores, antique shops, and great beaches for kite flying. Just a bit further south is the renown Salishan Spa and Golf Resort, with year-round golf and tennis, and a "coast to table" restaurant for hungry guests and travelers. And a few miles further is Depoe Bay, known at the "world's smallest harbor," offering whale-watching and fishing charters. Continue south another 25 miles and you'll arrive at Seal Rock, aptly named for the cute seals (and sea lions) that congregate here.
Eleven lighthouses are distributed along the Oregon coast, a few of which are open to the public.  Heceta Head, about 40 miles south of Seal Rock, is one of the most popular and scenic lighthouses on the coast, open year-round with ranger-lead tours and a parking lot suitable for RVs.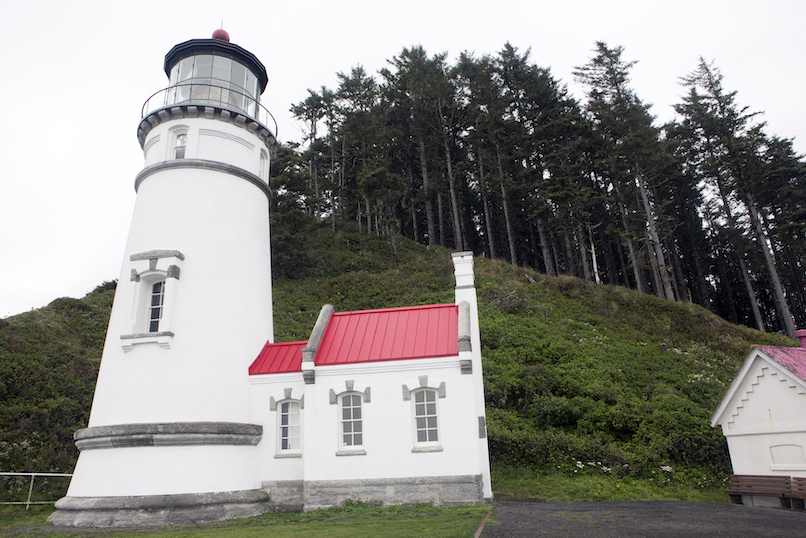 A bit further south takes you to Florence, with its charming Old Town District at the mouth of the Siuslaw River. Spend a day strolling along the boardwalk, browsing through various shops, and dining in cozy restaurants, some with patios overlooking the river. Visit the Siuslaw River Bridge Interpretive Center to learn about the Historical Art Deco drawbridge built in 1936 to replace a ferry, the original means of transporting passengers across the river.
Florence is the northern gateway to the Oregon Dunes National Recreation Area, a favorite spot for hikers, bikers, and drivers of All-Terrain-Vehicles to explore 40 miles of wind-sculpted sand dunes, some towering 500 feet above sea level. Rentals of dune buggies and sandboards (sort of a snowboard for sand), as well as eco-tour operators, are available at various locations.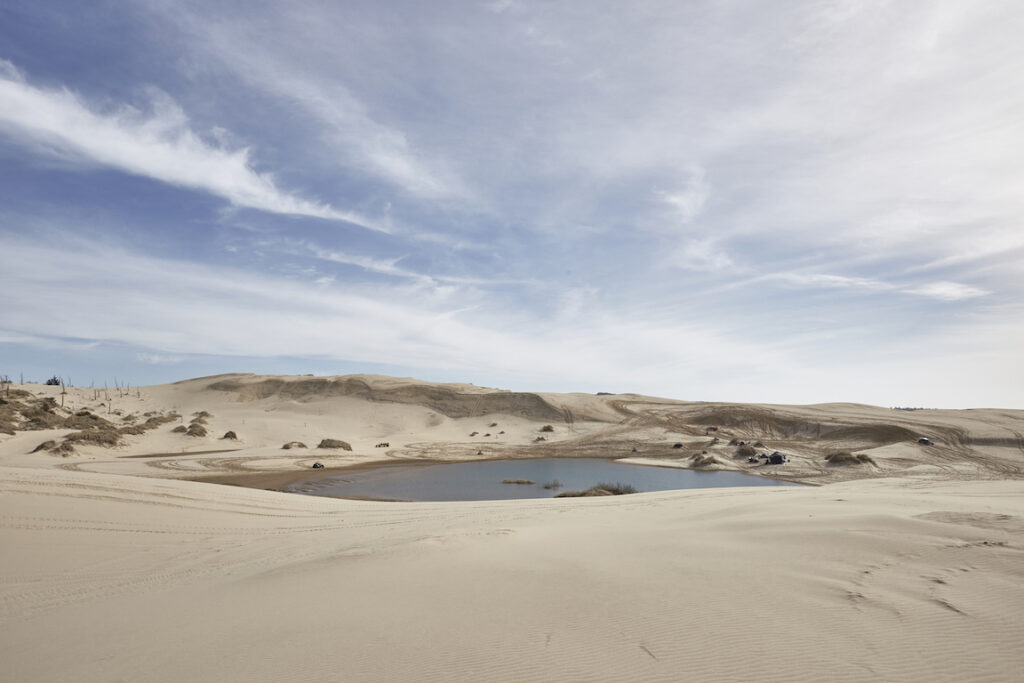 At the lower end of this giant sandbox is Coos Bay, the most populated city on the coast, over 16,000 residents, according to a recent census, but with a friendly, small-town ambiance. The Mill Casino provides a full-service RV Park, as well as free overnight RV parking in their large lot. A popular Coos Bay attraction is the boardwalk, providing stunning views of the bay and harbor especially at sunset.
If you're a serious golfer, you may want to try one of several Bandon Dunes courses, located about 50 miles further south, with spectacular ocean vistas. Sand dunes and sand traps are all part of the game on these links-style courses, although RV parking is not available except for hotel guests.
We always make Gold Beach one of our last stops to kick back and relax at a big-rig-friendly RV park with private hot tubs available at some sites. An authentic Mexican restaurant is located beside the office and a brewery is across the street where you can learn how they make beer and sample some of their lagers, pale ales, and porters. From the RV park, a short walk brings you to a fine sandy beach with a turtle-shaped rock and a granite monolith at the shoreline … icons of Nature at its finest.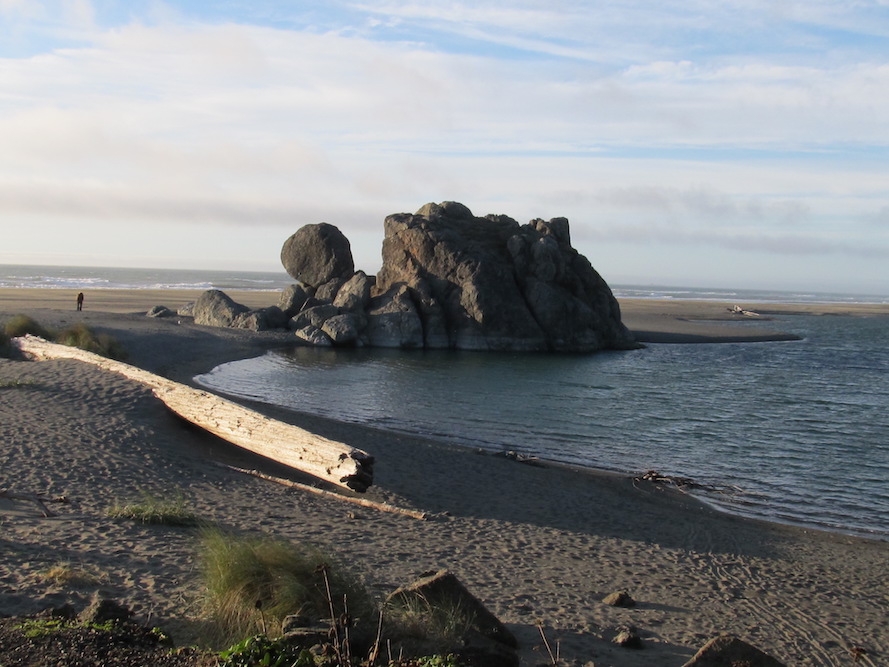 If you're looking for fun and excitement, consider taking a jet boat from Gold Beach up the wild Rogue River. Experienced and knowledgeable guides will expose you to amazing scenery, 360-degree spins, splashes, stories, and humor.
Brookings Harbor, where we always purchase fuel and groceries, and the California border are just a short distance further south.
Keep in mind if you're a Snowbird intent on reaching your favorite Sunbelt destination as quickly as possible, you can hop on Interstate 5 in Portland and pass through the state in about five hours. However, if you adhere to the adage "enjoy the journey, not just the destination," you may want to spend some time coasting on your next trip through Oregon.
USEFUL WEBSITES
Travel Oregon: https://traveloregon.com/places-to-go/regions/oregon-coast/
Oregon Coast Tourist Information: www.visittheoregoncoast.com
Tillamook Cheese Factory: www.tillamook.com/creamery.html#general