As fulltime RVers from Canada, my wife Sandy and I have spent our past seven winters in the sunny climes of the Southwest, usually at resorts in Arizona. We always look forward to reuniting with fellow RVers whom we've met over the years, and of course to visiting the various attractions near our resort. Time passes quickly and come springtime, we begin to plan our leisurely travels north, visiting additional attractions along the way. In short, our lives are filled with joyful anticipation, whether it's nourishing friendships or visiting attractions.
Most of our summers have been spent at a campground in Powell River on the Sunshine Coast of British Columbia. Since we had pretty much seen and done everything within that area, the time had come to consider a new location, with new attractions, to spend our upcoming summer. A logical choice was the Comox Valley, midway up the eastern side of Vancouver Island … from there it's only a short ferry ride across the Strait of Georgia to visit friends in Powell River. And we already knew some folks who had moved to the valley from other parts of Canada; they had only positive things to say: "What's not to like?"
Our route north had us departing on a Washington State Ferry from Anacortes, spending a few hours admiring the natural beauty of the San Juan Islands, and arriving at the port of Sidney on the south end of Vancouver Island. From there, it's a 3-hour drive north on Highway 19 to the Comox Valley. If you're an RVer planning to visit this area, keep in mind that ferry fees for a sizeable RV can be a tad expensive, so you probably wouldn't want to come for a weekend! But why would you? As we discovered, there is so much to see and do within the Comox Valley that we barely scratched the surface during our four-month stay.
The Valley
Our first stop in the Comox Valley was the Tourist Information Centre just off the freeway enroute to Courtenay. When I asked the friendly clerk what we absolutely had to see if we were just here for the weekend, she immediately replied, "Comox Marina, Goose Spit, and Mount Washington." When I then told her we were actually here for the entire summer, we ended up with an armful of brochures and booklets, covering everything from Arts to Wildlife (the writer in me wishes there were Ziplines here!).
"K'omoks" is a native Indian word meaning "Land of Plenty." Abundant animals and plants allowed Salishan First Nation peoples to thrive here for thousands of years before the Europeans arrived in the mid-1800's, modifying the name to "Comox." By the early 1900's, a railway line from Victoria was extended northward to the Comox Valley and the City of Courtenay was established. Courtenay proudly celebrated their Centennial during our visit with parades, hoopla, and a dedicated museum exhibit titled, "A Walk Through Time."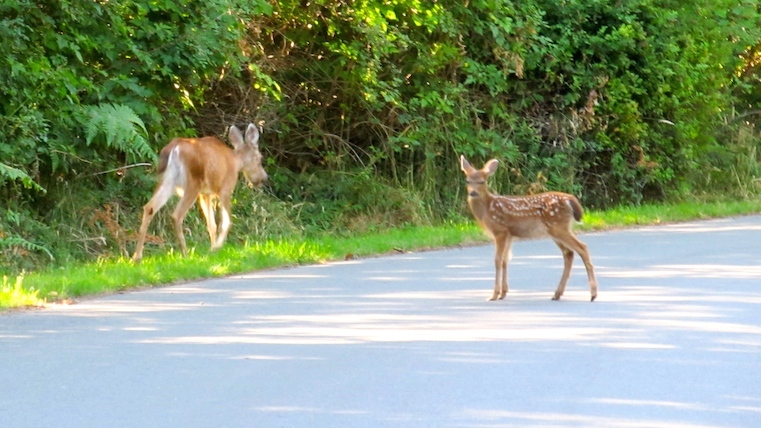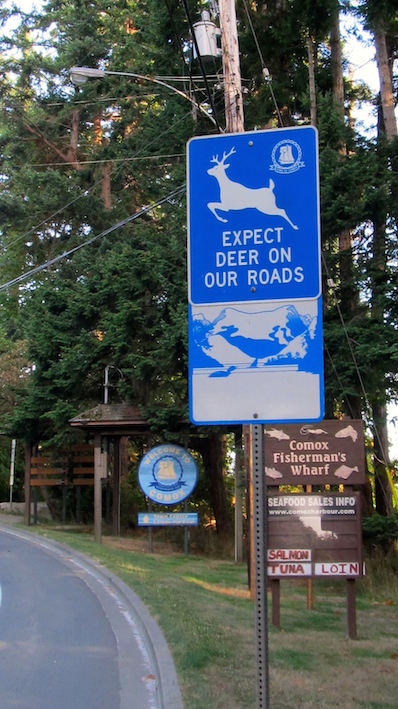 The Town of Comox and the Village of Cumberland are also nestled in the valley between the majestic Beaufort Mountains and the expansive Strait of Georgia. Denman and Hornby Islands as well as several rural communities add to the mosaic of beauty and attractions that make up the valley. With a population of nearly 70,000, the area has had one of the fastest growth rates in British Columbia over the past five years. No doubt contributing to that statistic is its moderate year-round climate, alpine to shoreline geography, endless recreational opportunities, and the friendly folks who live here.
One of the best ways of learning about an area's history is to spend some time in a museum. Exhibits in the Cumberland Museum emphasize coal mining, which drew early settlers to the Comox Valley; those in the Comox Museum show a more extensive timeframe from its discovery through to modern times. For those seeking additional information, the Courtenay Museum and Palaeontology Centre displays locally-found skeletal remains of prehistoric reptiles, while the Comox Air Force Museum displays artifacts reflecting the history of Canadian military aviation.
Campgrounds
A handout from the Information Centre lists eight full-service campgrounds within the Comox Valley, locations ranging from beachfronts to forests.
Our choice was Cape Lazo RV & Campground, just minutes from downtown Comox and no more than a half-hour drive from anywhere in the valley. Proximity to the Strait of Georgia availed us opportunities to scour the shoreline for intricate shells and that oh-so-perfect beach stone, while seagulls and herons scoured the water's edge for their own tidbits. This Strait, named by 18th Century explorer Captain George Vancouver, serves as a conduit for migrating whales and salmon as well as for cruise ships on their way to and from Alaska.
Just up the road, Canadian Forces Base operates routine flights of military aircraft, including Hercules Transports, Search-and-Rescue helicopters, and air-cadet training gliders, which often shifted our gaze skyward. As a bonus, at the annual airshow we were able to watch aerobatics from our campsite – on a lounge chair with a cool one!
The valley's campgrounds can accommodate even the largest RVs and are especially busy during the summer months when days are warm enough to enjoy an outdoor swim, but not unbearably hot. Comox Valley is ranked the 6th warmest region in Canada. If you plan to visit in July and August, consider making advance reservations to ensure a spot is available. Our campground host said that one RVer had his favourite site booked for the next three years. He really likes it here!
Hiking Trails
Over 100 kilometres of designated hiking trails are available throughout the valley, most of which can be biked as well. From energetic treks through alpine wilderness to leisurely strolls within local parks, there is something for everyone. Our favourite, conveniently located near our campground, is a 1-kilometre circular trail in the Lazo Marsh Conservation Area. A canopy of towering firs and cedars looms over the sun-dappled trail flanked by waist-high ferns and emerald salal bushes. Here, plucky chickadees feed on seeds from an outstretched hand and redwing blackbirds flit among the cattails. Adjoining second-growth forests, north and south of the Marsh, are laced with kilometres of well-marked trails for more ambitious nature lovers.
Just south of the Town of Comox, Goose Spit is a narrow peninsula that extends 2 kilometers into the ocean. While serving as the base for Canadian Forces sea cadets, it also provides one of the valley's most popular sandy beaches. At low tide, one can hike to the tip and back, 4 kilometres of gently sloping shoreline. Just around the tip, recreational boaters often gather to enjoy the fine white sand and relatively warm surf near a makeshift tiki hut.
Sea-cadet sailing regattas frequently occur offshore in the Comox Harbour. Bird watchers appreciate the mudflats on the lagoon side of the Spit where sandpipers, oystercatchers, and other shorebirds are common. Several tables are available for those who want to observe these avian picnickers while enjoying their own snacks.
Nearby Mount Washington is a mecca for winter skiers, as well as for summer hikers and bikers. We particularly enjoyed a guided walking tour of pristine Paradise Meadows where our expert guide pointed out alpine plants and animals, including friendly gray jays and raucous ravens.
Not to be missed is the scenic chairlift ride to the mile-high summit, offering spectacular views of the Beaufort Range and Strait of Georgia. On a clear day, Mt. Baker in northern Washington can be seen in the distance.
Marine Activities
The mantra "Comox by the Sea" is appropriate, considering the town overlooks the world-class Comox Marina, a popular stopover for visiting boaters. We often strolled along the extensive pier, admiring the many luxury sailboats and motor yachts at the docks. From the pier are views of Goose Spit, the Beaufort Mountains, and Comox Glacier. Whether it's purchasing freshly caught seafood directly from local fishermen at the dock or renting a kayak, paddleboard, Hobie Cat, or even a cruising yacht, you can find it here.
Kayaks and paddleboards are also available at several other locations within the valley, including our campground. During one sunset paddle in the Courtenay River Estuary, we got up close and personal with harbour seals and bald eagles. Available with pre-booking throughout the summer are fishing charters, whale watching tours, scuba diving excursions, and boat cruises to remote areas that are off the beaten track.
 Arts and Culture
Art galleries and studios are scattered throughout the valley where one can purchase a unique painting, carving, or piece of handcrafted pottery or jewelry. Many of these items, as well as locally grown produce, are on display at weekly farmers' markets in the urban centres, as well as on Denman and Hornby Islands. On several occasions, we visited these enchanting islands by ferry to take in a self-guided art tour, nibble on all things blackberry at their annual festival, and frolic in the temperate aquamarine waters of Tribune Bay, nicknamed "Little Hawaii." For those seeking traditional First Nation's artwork and crafts, many examples are on display and available for purchase at I-Hos Gallery, on native lands between Courtenay and Comox.
The Comox Valley is known as the "Valley of Festivals," and for good reason. In addition to the ever-popular Filberg Festival, which features music, food, and art from over 100 artisans across Canada, there are many other festivals which celebrate everything from jazz, seafood, and authors to bluegrass, dance, and mushrooms to name a few. If wine making can be considered an art, several vineyards in the valley are intent on producing a Rembrandt. Fertile soil and moderate climate have contributed to the production of internationally acclaimed, award-winning wines, and the best part is – tastings are free to RVers (and others of course).
Were we ever bored? Not a chance, although occasionally we managed to just relax beside our trailer, replenishing energy in preparation for our next adventure. Besides those activities mentioned, the valley has many more ways to play, including golf, tennis, pickle ball, rock climbing, tubing, wind surfing, lawn bowls, and the list goes on. July's What's on Digest for Comox Valley listed multiple events occurring nearly every day, so there's no excuse for being bored in this land of plenty. We're already joyfully anticipating our return visit next summer to continue getting our attraction fix.
 FOR INFO:
Tourist Information: www.discovercomoxvalley.com
Hiking Trails: www.comoxvalleyguide.com/recreation/hiking/
Mount Washington Alpine Resort: www.mountwashington.ca
Wineries in Comox Valley:  www.bbvancouverisland-bc.com/wineries-comox-valley.html