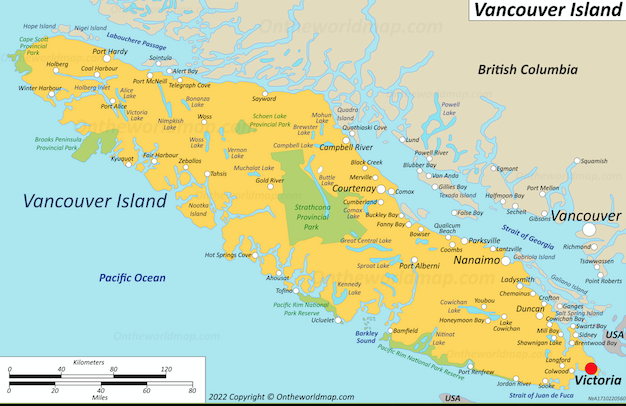 As full-time RVers who spend our summers on Vancouver Island in British Columbia, my wife Sandy and I have had numerous opportunities to explore various communities on both coasts of the island. Occasionally, fellow RVers will ask what are our favourite destinations and RV Parks.
The Island can be divided into three geographical areas: South, Central, and North. In each area, I selected three of our most-liked destinations and RV parks. To eliminate repetition, note that all of the communities mentioned provide a variety of shops, galleries, and tours, including whale and bear watching, fishing, kayaking, SUP, hiking, biking, and scuba diving. Hiking trails and farmer's markets are as abundant as breweries, wineries, and pubs. Golf, tennis, pickle ball, and lawn bowling are also available in some communities.
Also, all of the RV Parks mentioned are well-maintained, big-rig friendly, full-service with decent Wi-Fi, and some even have ocean views. Our 38' fifth-wheel feels right at home in all of them.
Traveling to Vancouver Island in your RV requires a ferry ride, either from Port Angeles, Washington to Victoria, or from the BC mainland to Sidney, Nanaimo, or Comox. Note that ferry fees for a larger RV can be a tad expensive, so you probably don't want to come for a weekend! Most RVers, especially those renting a rig on the mainland, arrive in Sidney so we'll start there.
SOUTH
Sidney About 1O minutes after departing the ferry at Swartz Bay Terminal, just off Hwy 17, is Oceanside RV Resort. Sidney by the Sea is a picturesque little town with many attractions, including a delightful Museum, family-friendly aquarium, and scenic waterfront walkway with intriguing statues.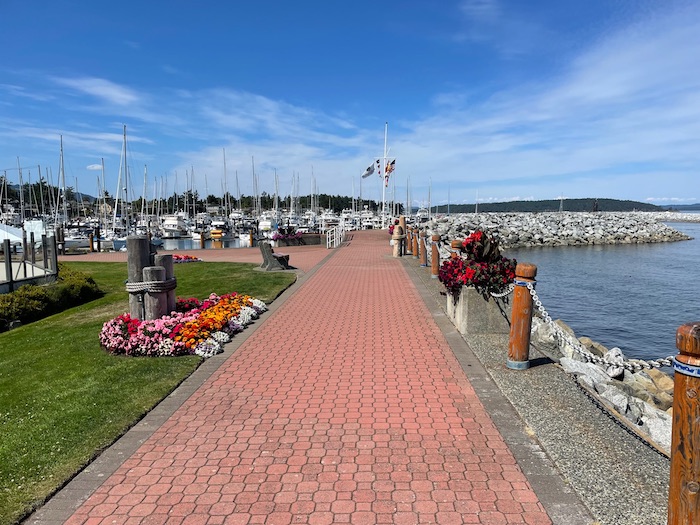 Sidney waterfront walkway
Special events during the summer include a concert series in Beacon Park and the popular Thursday night Street Market.
About 15 minutes west of the RV Park is century-old Butchart Gardens, a National Historic Site of Canada. Five distinct, immaculate gardens are filled with thousands of plants in brilliant colors. Make a day of it by watching stage entertainment, followed by dinner in the elegant ambiance of the former Butchart family residence.
Sunken Garden at Butchart Gardens
Special events during the summer include a concert series in Beacon Park and the popular Thursday night Street Market.
Victoria Twenty minutes south of Sidney is the largest city on the Island; also the capital of British Columbia. A short drive west is Fort Victoria RV Park where we spend most of our summers.
Victoria oozes old-world charm and hospitality with an abundance of activities for visitors. A good introduction would include a 90-minute bus tour of Victoria's points of interest, beginning at the chateau-style Fairmont Empress Hotel, and a 45-minute boat excursion with Victoria Harbour Ferry to learn about the varied history of the harbour.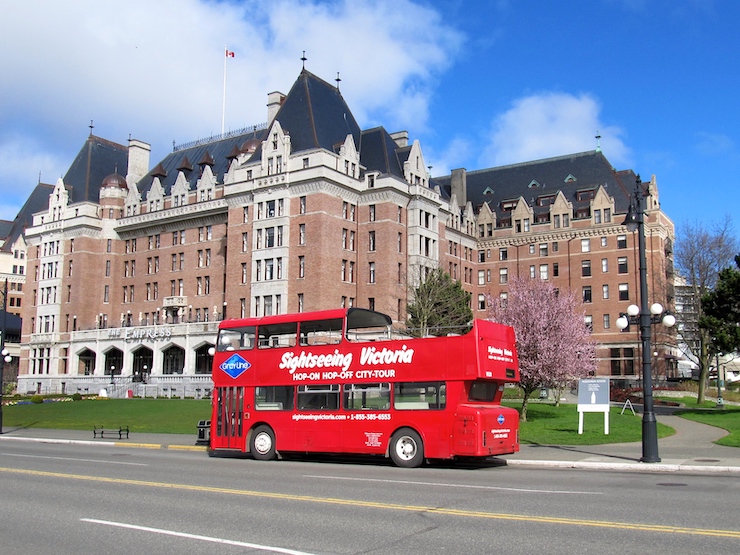 Tour Bus at Fairmont Empress Hotel
The downtown Royal BC Museum and the majestic Parliament buildings are definitely worth a visit.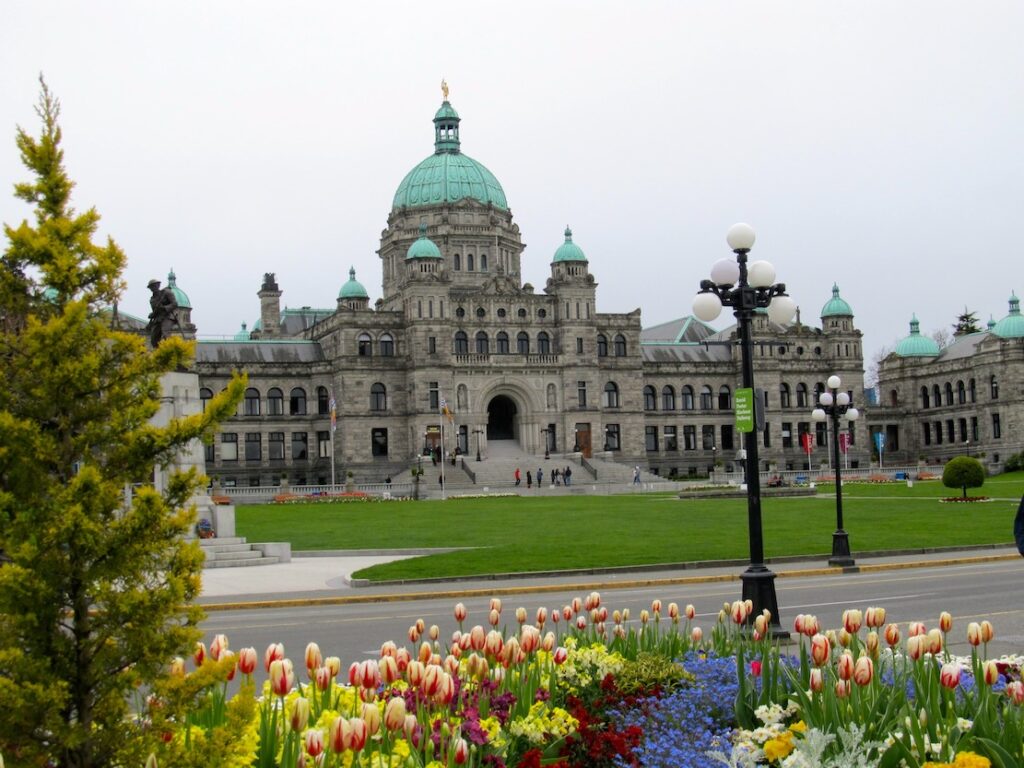 Parliament buildings
To top off your stay, afternoon tea at the Empress Hotel or Abkhazi Garden provides a truly memorable experience for both body and soul.
Chemainus An hour's drive north on Hwy 1 is Canada's Mural Capital. Just off the highway five minutes south is Country Maples RV Resort.
To better appreciate the more than 60 amazing murals and various sculptures around town, stop at the Visitor Centre and pick up a brochure describing the intent of the artwork. Some of the murals have hidden images and optical illusions to surprise viewers. A popular mural is #12, "Native Heritage," based on figures from the Native past and present.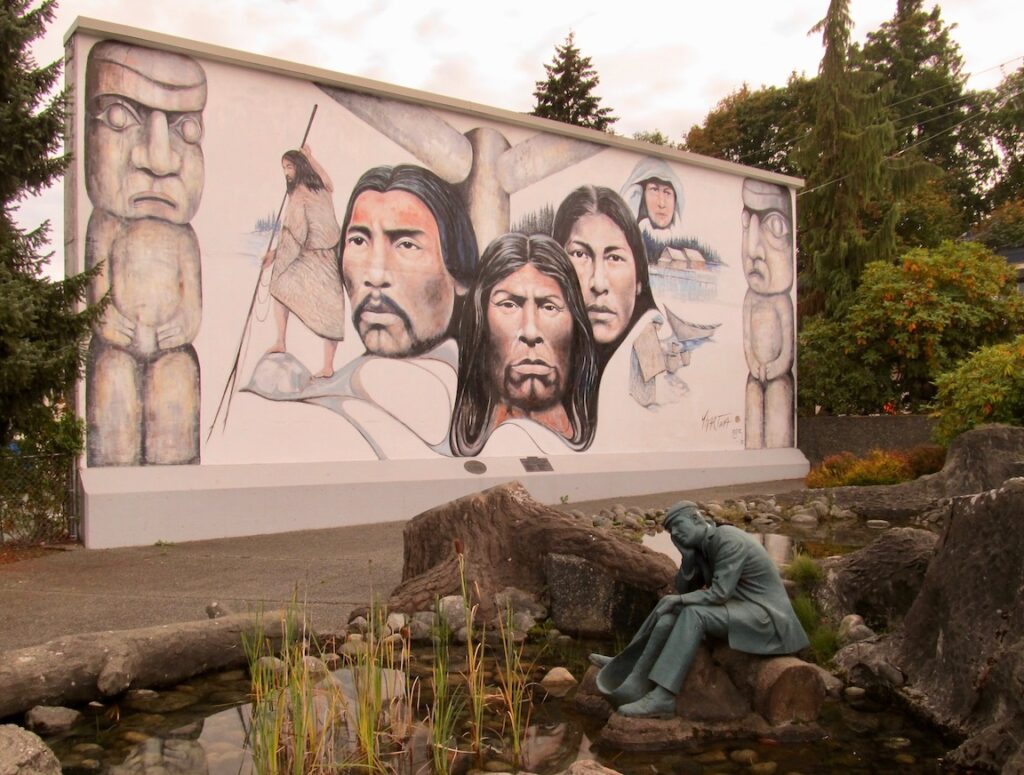 Native Heritage mural
Another popular attraction is the renowned Chemainus Theatre, which offers year-round live professional productions. Reservations are usually required in the summer for both the theatre and its Playbill Dining Room.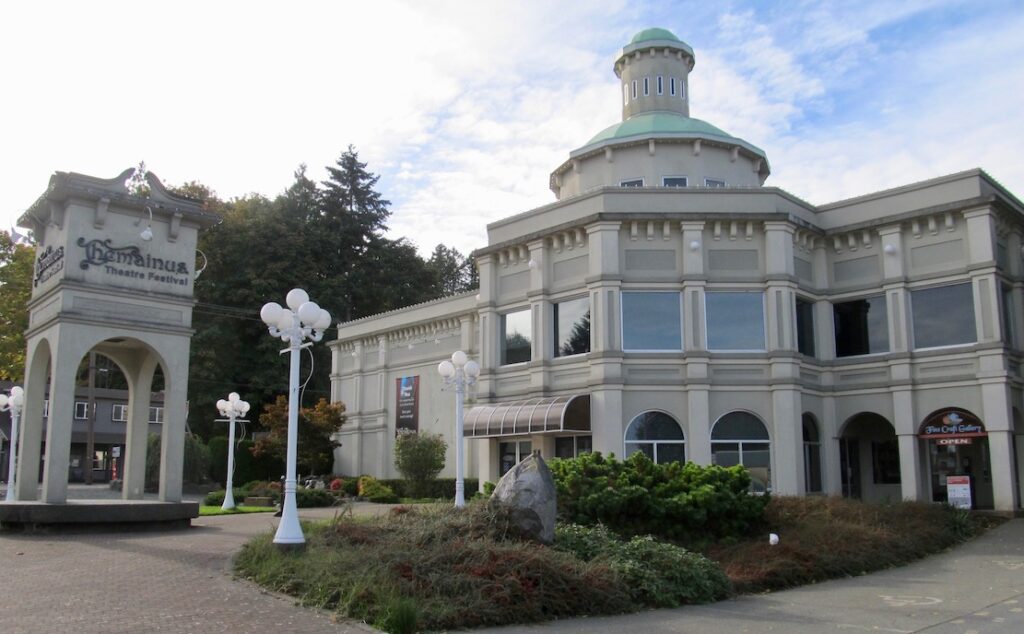 Chemainus Theatre
If you're an art or theatre lover, do not pass by this charming community … the friendly folks will welcome you with open arms.
CENTRAL
Nanaimo A half-hour further north on Highway 1 is the "Harbour City" with Brannen Lake RV Resort only 10 minutes from downtown.
The Visitor Centre has a list of "top 10 things to do in this city," including the Nanaimo Bar Trail – rated #1. Over 40 stops on this trail serve some variation of the Nanaimo Bar (traditionally layers of crumb crust, custard, and chocolate) … all sweet, all decadent, and all decidedly delicious.
Another attraction is the Nanaimo Museum with exhibits about the coal mining, logging, and fishing industries that helped shape the city … as well as information about the origin of the Nanaimo Bar.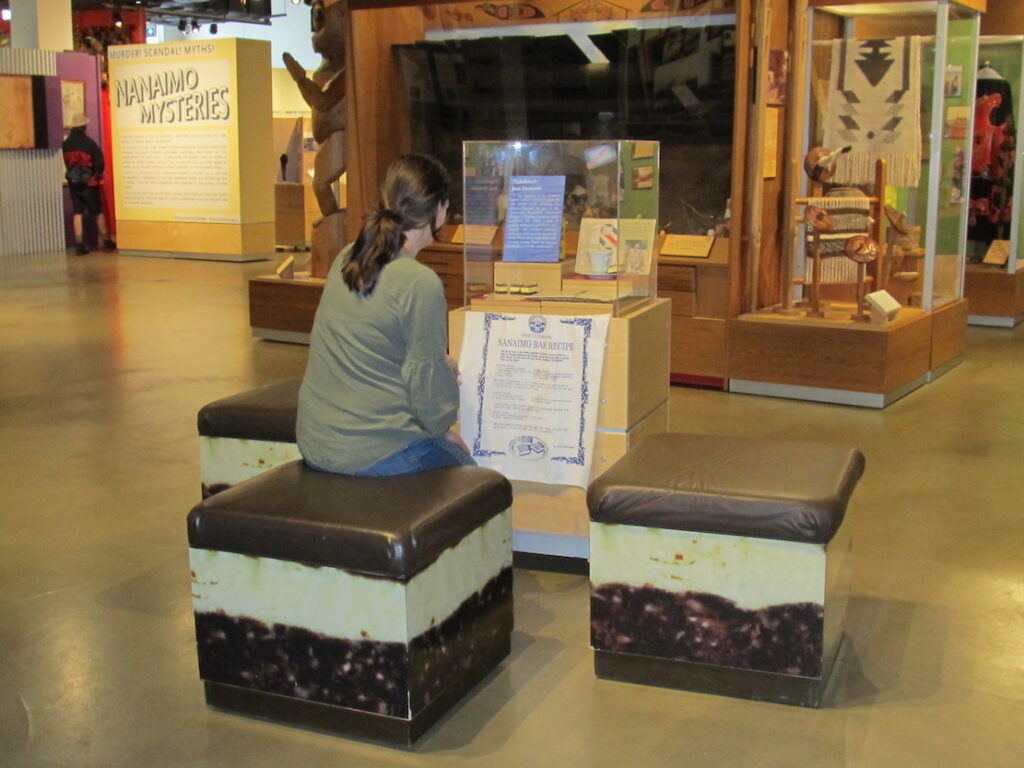 Nanaimo Bar benches in the Museum
And don't miss the Old City Quarter – cobbled walkways between century-old buildings with old-fashioned street lamps and hanging baskets of colourful flowers.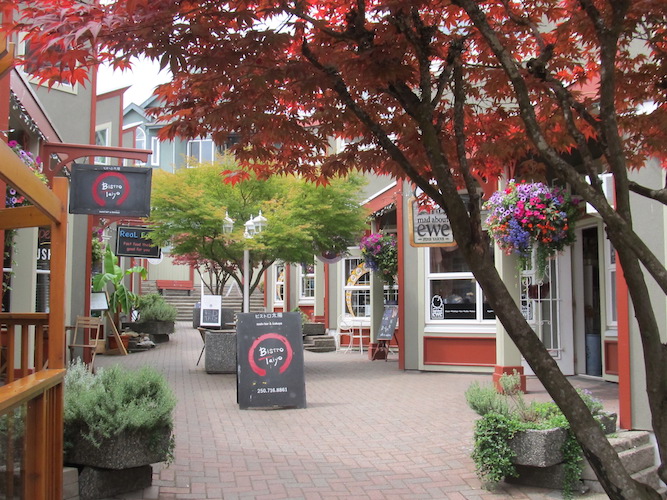 Old City Quarter
Known as the "Harbour City" for a reason, its harbour is a sheltered waterway with row after row of busy docks and a popular anchorage for boaters. Include a stroll along the Harbourfront Walkway and a short ferry ride to the Dingy Dock Pub, Canada's only floating pub.
Tofino Hwy 1 from Victoria changes to Hwy 19 at Nanaimo. About 20 minutes north, Hwy 4 bisects the Island to the west coast. This highway is curvy and narrow in spots so drivers need to keep their eyes on the road. Passengers, however, can gawk to their heart's delight, during the three-hour drive, at snow-capped mountains, crystal-clear streams, lush meadows, and dense forests.
We typically spend a month each summer at Bella Pacific RV Park just 10 minutes south of Tofino. This small friendly town is chock full of youthful energy, funky yet surprisingly sophisticated, with upscale resorts, spas, and award-winning restaurants that rival the world's finest. A popular activity is strolling on, or surfing from, one of the many sandy beaches. T'ashii Paddle School, a First Nations Company, offers guided dugout canoe trips to the Big Tree Trail on Meares Island, which has some of the biggest and oldest trees on the coast.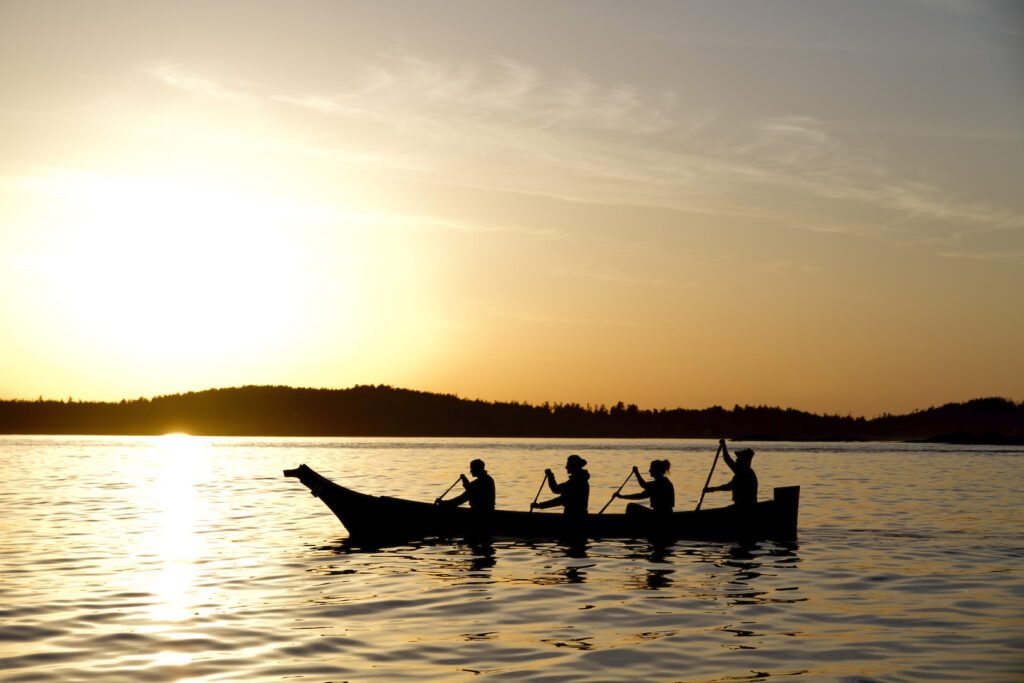 Sunset paddle, returning from Meares Island
Another popular half-day boat tour includes a visit to remote Hot Springs Cove for a short hike through an ancient rainforest to natural hot springs for a soak – a step back in time.
Many other activities are available along the coast, as well as in Ucluelet, a half-hour south, which has a "catch and release" aquarium and the Wild Pacific Coast Trail.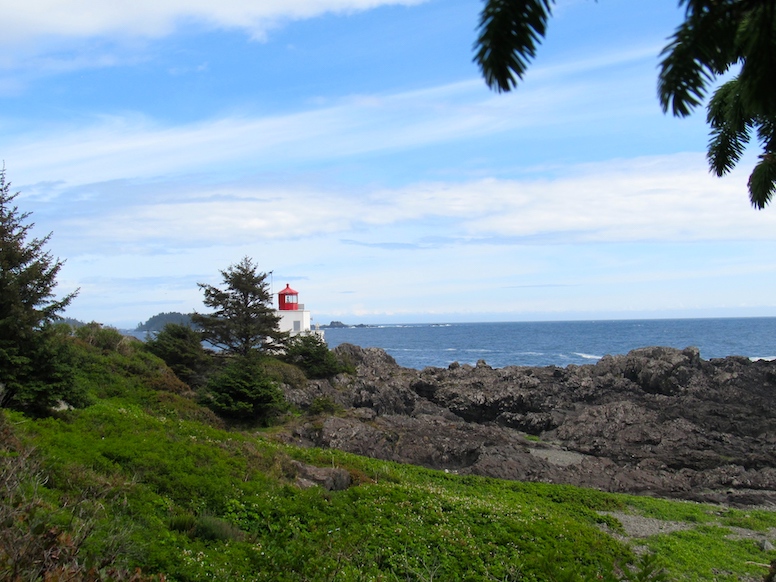 Lighthouse on Wild Pacific Coast Trail
Parksville Heading back east on Hwy 4 brings you to Surfside RV Resort, with an extensive beach and estuary frontage. Deer wander about the Resort like they live there! It's also within easy walking distance to downtown.
Popular attractions during July and August are a Sand Sculpting Exhibition and a Summer Concert Series on Parksville Beach.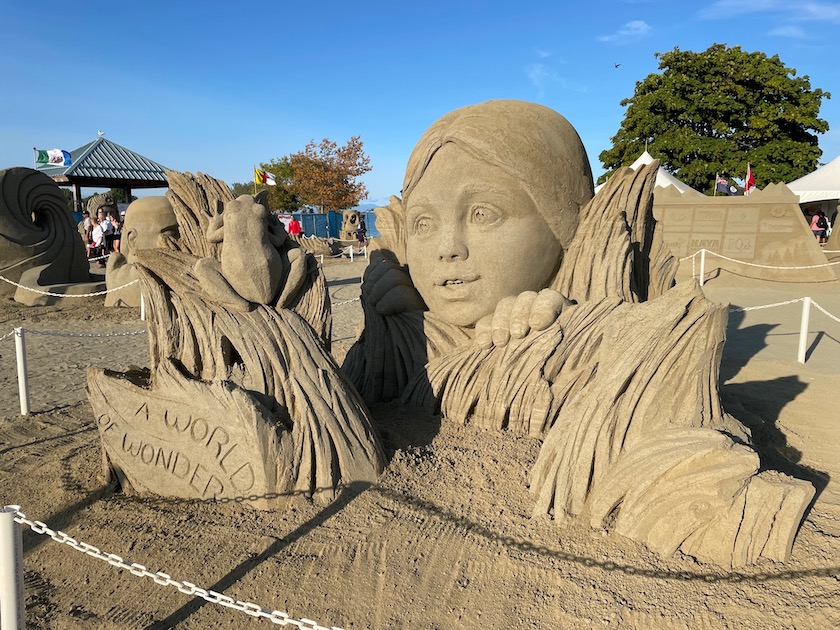 Sand Sculpture on Parksville Beach
If you enjoy cheese, visit Morningstar Farm, home to Little Qualicum Cheeseworks. Here you'll find self-guided tours, a store, café, petting farm, and Canada's first "milk on tap" dispenser. Their museum has an excellent video about the history of the farm, how robots milk their cows, and how their cheese is made. And it's free … except for their cheese curds, which are deliciously addictive!
NORTH
Comox A scenic one-hour drive north on Hwy 19A brings you to the Comox Valley. Cape Lazo RV Resort, located minutes from downtown, is just a few steps from a pebbled beach on the Strait of Georgia. Goose Spit, a narrow peninsula, provides a popular boating area with its calm waters and pristine sandy beaches.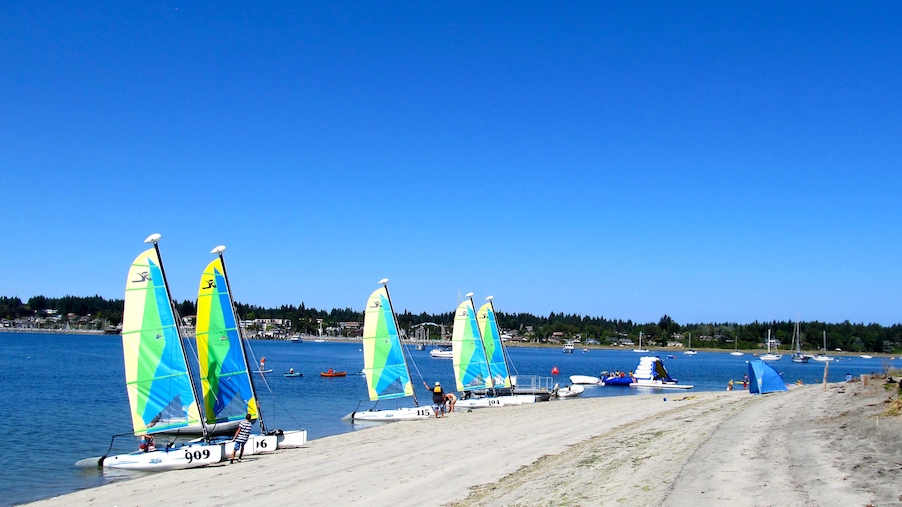 Boats on the beach at Goose Spit
Nearby Mount Washington is a mecca for summer hikers and bikers. The scenic chairlift ride to the mile-high summit offers spectacular views of the Beaufort Range, the Strait of Georgia, and Mt. Baker in northern Washington. Majestic Paradise Meadows has a boardwalk through a forest with alpine plants and animals, including friendly grey jays and raucous ravens.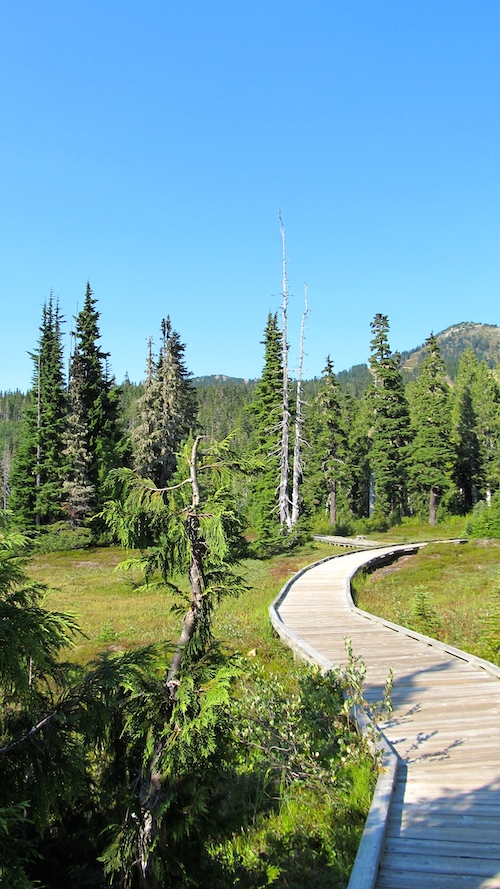 Paradise Meadows boardwalk
Digital "What's on Digest" for Comox Valley lists multiple festivals occurring nearly every day, so there's no excuse for being bored in this land of plenty.
Campbell River Continuing north on Hwy 19A for about an hour brings you to "a city nestled in Nature." Thunderbird RV Park & Resort is on a spit at the north edge of town – just a stone's throw from Discovery Passage where cruise ships to and from Alaska are seen in transit. Bald eagles are frequent visitors to the campground … we saw two juvenile eagles on a telephone pole beside our RV with mom and pop circling overhead.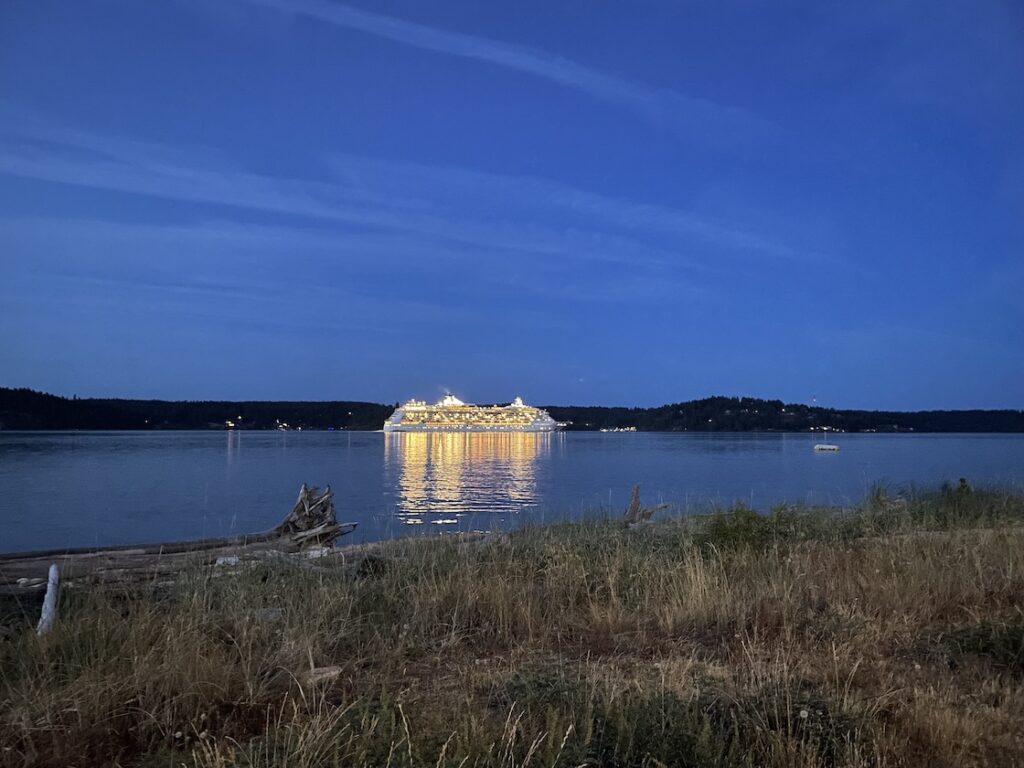 Cruise ship in Discovery Passage
Nature lovers will enjoy the ocean vistas, rushing rivers, and the breathtaking sight of nearby Elk Falls from a massive suspension bridge. If you want to view Campbell River from a new perspective, consider taking a floatplane, helicopter, or even a tandem skydive. Word has it, the region's sheer scale of wilderness and beauty can best be seen from above!
Port McNeill This small community is located about two hours north of Campbell River on Highway 19 through expansive forests and craggy outcroppings. Shortly before Port McNeill is the turnoff to Adler Bay RV Park, a terraced campground overlooking a marina and Johnston Strait.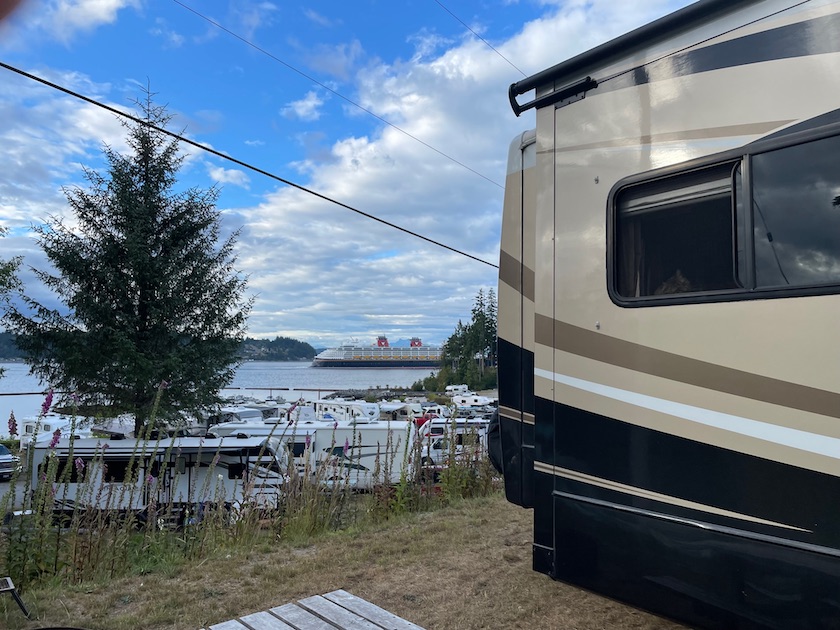 View from our site at Alder Bay RV Park
A short ferry ride from Port McNeill brings you to Alert Bay, rich with First Nations Culture. Tribal dancing at the traditional 'Namgis Big House, the renowned U'mista Cultural Centre, and multiple Totem Poles in sacred burial grounds are popular attractions.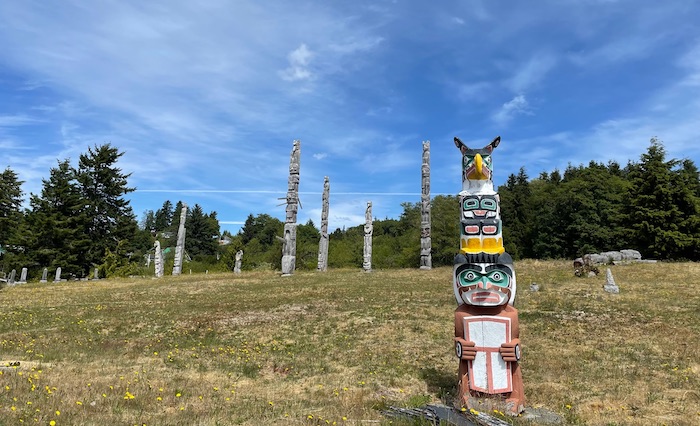 Totem Poles in Sacred Burial Grounds
Just south of Alder Bay is Telegraph Cove, a picturesque waterfront village with a year-round population of only 20 residents. The Whale Interpretive Centre provides information about, and skeletons of, the whales and marine life that inhabit the nearby waters: orcas, humpback whales, sea lions, porpoises, seals, dolphins, and otters.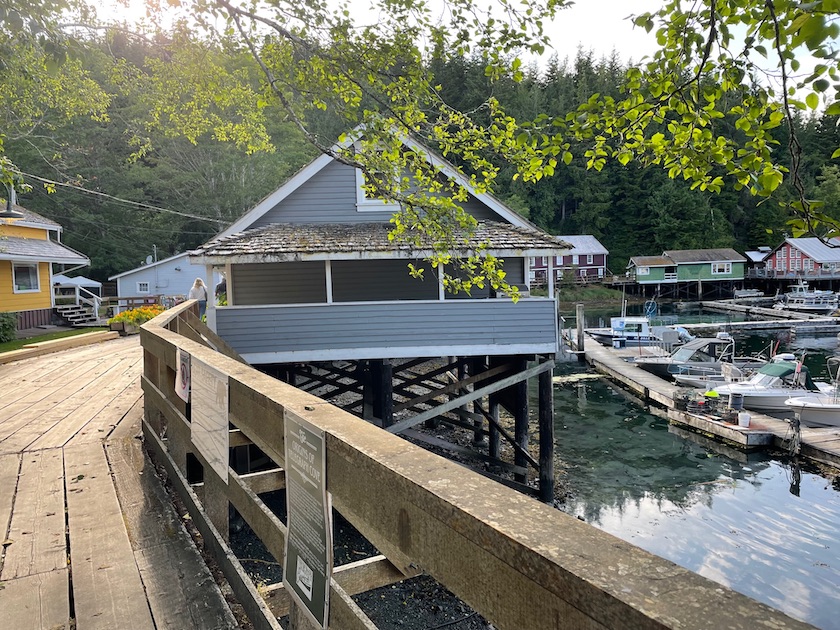 Telegraph Cove
The next best part of traveling up the Island's coast is traveling back down, which gives you an opportunity to visit other communities and stay at other RV parks. With so much to explore and experience, Vancouver Island is a wonderful and popular holiday destination.
If you plan to visit the Island in your RV:
Make a ferry reservation at least one month prior to your visit
Make RV Park reservations at least six months prior to your visit.
Spend at least three days in each community, preferably longer in Victoria and Tofino
Stop by the Visitor Centre when you arrive in each community to find out what's happening.
Visit the author's website (www.landyachting.ca/destinations) for more detailed articles about five of the communities mentioned: Victoria, Chemainus, Nanaimo, Tofino, and Comox.