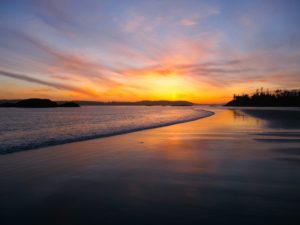 The West Coast of Vancouver Island showcases Nature at its finest
As I write this, the view from the back window of our 5th wheel is spectacular! A setting sun is casting an orange glow over the seascape; gentle ocean waves are spilling over rocky islets and cascading onto a pristine sandy beach. Where are we, you ask? We're in Paradise by the Pacific. More specifically, we're settled into an RV park a few kilometres south of the community of Tofino on the west coast of Vancouver Island, British Columbia.
Getting here
If you look at a map of Vancouver Island, you'll see there's only one road leading to Tofino. Route 4 (also known as Pacific Rim Highway) bisects the Island, beginning at Parksville and heading west 48 km to Port Alberni. From there, it continues another 96 km to a T-intersection on the edge of the Pacific Ocean. Turn left and within 10 minutes, you're in Ucluelet (pronounced "you-CLUE-let"). Turn right and within 30 minutes, you're at the end of the road in Tofino. Between these two charming seaside villages is Pacific Rim National Park Reserve, which provides access to miles of rocky coves, sandy beaches, and many designated trails through dense coastal rainforests. This area is part of the island coastline referred to as the "Pacific Rim."
To get there, board a BC Ferry from Vancouver to Nanaimo. Then drive 37 km north on Highway 19 to Route 4 near Parksville and head west … you're on your way. From the United States, board a Washington State Ferry in Anacortes or the Blackball Ferry in Port Angeles to Victoria, BC. Then drive north on Highways 1 and 19 for 150 km to Route 4.
Route 4 is curvy and narrow in spots, so drivers need to keep their eyes on the road. However, passengers can gawk to their heart's delight at snow-capped mountains, crystal-clear streams and lakes, lush meadows, and dense forests. A popular tourist attraction between Parksville and Port Alberni is Cathedral Grove, a stand of old growth forest in MacMillan Provincial Park. Here, an easy stroll through old growth hemlocks, Douglas firs, and Western Red cedars will give you an appreciation of how most of Vancouver Island looked just over a hundred years ago. Their parking lot cannot accommodate large rigs and parking on the shoulder of the highway is not permitted; but no worries, you'll see lots of similar trees on the coast.
Port Alberni is the only community along this route that has major shopping outlets, such as WalMart and Canadian Tire, so you may want to stock up with groceries and RV supplies, depending on how long you plan to stay on the coast. I would recommend at least a week to sample some of the natural, cultural, and culinary riches this region has to offer. Nature aficionados may want to stay forever!
Tofino and Ucluelet ("Ukee") are small, friendly towns chock full of youthful energy, funky yet surprisingly sophisticated with upscale resorts, spas, and award-winning restaurants that rival the worlds finest. A number of RV Parks are sprinkled along this coastal stretch, but be forewarned: if you're planning to bring your RV here during the summer months, make sure you have a reservation. We booked seven months in advance to reserve our site, primarily because we have a large trailer (38'), but also because we wanted an ocean view. Re-read the first sentence as to why we wanted an ocean view.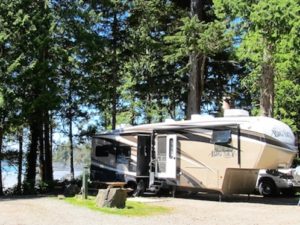 We stayed the entire month of May in Tofino and a few extra days in Ucluelet.
Early on, we stopped by the Tofino Visitor Centre to enquire about things to do during our stay. When I asked, "What are the top three things we absolutely have to do?" the friendly gal pulled out a map and circled three attractions: Chesterman Beach, the Botanical Gardens, and the Big Trees Trail on Meares Island. And those were just her suggestions in the Tofino area … there are many other activities all along the coast, including in Ucluelet.
We lucked out with warm sunny days during most of our stay – quite unusual for May. Reportedly, the "warmest weather" on the coast is from June to September, with average daily highs around 18°C. Bring some extra layers and rain gear as coastal weather can vary widely from day to day. The winter months, while not suitable for RVing, are considered best for storm watching, ideally from a beachfront cabin in front of a cozy fire!
Whale Watching
In 2015, National Geographic rated Tofino as one of the "Best Spring Trips," primarily because offshore waters are spring feeding grounds for thousands of whales, primarily Grays and Humpbacks with occasional Orcas. Various whale-watching outfitters provide sea-going opportunities to observe and photograph these gigantic mammals. But you may not even need to go to sea: a local commercial fisherman reported that you could watch whales spout in 30 feet of water right off Chesterman Beach.
Not seeing any spouts off Chesterman, we booked a 2½-hour boat tour with the Whale Centre in Tofino. Howie, our experienced and knowledgeable native guide, introduced us to a dozen Gray whales some of which he recognized, such as "ghost face."
He also got us up close to sea lions sunning on a rocky islet, a cluster of seals thrusting above the water as if posing for the cameras, several tufted puffins, and a bald eagle perched on a cedar branch, which responded to Howie's screeching imitations by tilting his head in our direction. Check out their free whale museum and be sure and ask for Howie if you plan on taking this tour.
Paddling and Surfing
If you enjoy water sports, with a little adventure thrown in, look no further. The informative free map of Tofino and Ucluelet lists numerous operators that provide guided kayak and canoe tours to protected harbours where you can paddle with sea lions and seals while sea birds soar overhead. You might even see the occasional bear, as we did, foraging along a rocky shoreline. Our encounter was actually on a beach in Ucluelet where my wife Sandy and I were walking our dog Bella along the water's edge. About 50-metres away at the high-tide line, a large black bear was overturning rocks in search of tasty morsels. We had planned an escape route – swim to Japan – if he decided we were a more desirable menu item. With some relief, we went our separate ways and survived to dog walk another day!
National Geographic also rated Tofino "one of the top surf towns in the world." With waves to suit all ability levels, surf shops that rent equipment, and pro instructors, you'll be riding the curl before you know it. During our stay, top surfers from around the world competed while hundreds of cheering spectators lined the beach.
If you're not quite ready to "hang ten," you might want to try SUP (Stand-Up-Paddleboarding), a fast-growing sport that allows almost anyone to get out on the water and explore sheltered coves and bays – initially of course under the guidance of a qualified instructor. More proficient SUPers ride the ocean waves much like surfboarders, except they stand up and paddle back out to catch another wave. Fun, and a great core exercise as well.
Hiking
Within the Pacific Rim National Park Reserve are eight designated trails, all easily accessible and some with boardwalks that meander through old growth forests and bogs. Others hug the coastline or lead to sandy beaches. The Park charges a fee for use of these trails to help with their maintenance. Several trails and beach accesses within the National Park are designated "wheelchair accessible."
Outside the Park are additional "free" trails such as the Wild Pacific Trail near Ucluelet, ranked the "#1 activity to do on Vancouver Island" by Trip Advisor. This easy well-maintained trail has two sections: a circular 2.5 km loop past the century-old Amphitrite Lighthouse, and a 5.5 km one-way stretch that undulates along the rugged coastline. Both offer awesome panoramic views of the Pacific Ocean. Closer to Tofino is Tonquin Trail (2.6 km round trip), which provides scenic vistas from a cliff-top deck. A bench is provided for sitting and contemplating what's important in life: the answer is written in the waves.
If you want to combine a short hike with a boat ride and a hot soak, several operators offer half-day tours to remote Hot Springs Cove, about 26 nautical miles north of Tofino. During our excursion with Ocean Outfitters, we again encountered whales, seals, sea lions, and various sea birds.  From the dock, a half-hour hike on a boardwalk trail to the hot spring through an ancient rain forest is like a step back in time … some of the trees were already 200 years old when Columbus arrived in America. And no doubt, First Nations people used the naturally heated pools and waterfalls for an occasional happy soak.
Fishing
If you have a hankering to get out on the water and catch a big one, over a dozen sport-fishing charters are available to satisfy your urge. Experienced guides who know how to catch fish – primarily salmon, halibut, and lingcod – will take you offshore on safe, comfortable, and fully-equipped boats. If trout is more to your liking, several operators also provide remote fly-fishing excursions to lakes and streams. However, if you just want to eat seafood, fresh fish as well as crabs, prawns, clams, and oysters can be purchased at several outlets in both towns.
Cultural Events
Thousands of years before Europeans arrived, First Nations people occupied these lands. Currently, four tribes remain in the area: one in Ucluelet, one on Long Beach within the National Park boundaries, and the other two near Tofino on outlying islands.
T'ashii Paddle School, a First Nations company, offers guided dugout canoe trips from Tofino to nearby Meares Island, including an exploration of the Big Tree Trail. Appropriately named, this boardwalk trail through old-growth forest has some of the biggest and oldest trees on the coast. Tsimka, our guide, taught us how to paddle a seven-person dugout canoe (carved by her father) as well as some cultural traditions, such as paddlers singing a "greeting song" when approaching the land of another tribe. If in response, a "welcome song" was heard, it was safe to go ashore. She sang the greeting song beautifully in her native language while stomping her foot to simulate a drum. We heard nothing in response, but went ashore anyway.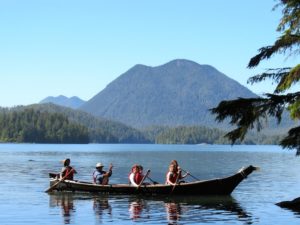 During our walk, Tsimka pointed out various trees and plants that were used by her ancestors for different purposes, and described how native people have struggled over recent years to protect homelands from clear-cutting by logging companies. After returning to the dock four hours later, we understood why the gal at the Visitor Center ranked the Big Trees Trail among the top three things to do in Tofino. Combined with the dugout canoe paddle, we ranked it number one!
Partly historical, partly natural, the Tofino Botanical Gardens provides a network of paths leading into a moss-draped rain forest, where garden plots display tropical plants such as palm trees and Giant Himalayan Lilies, as well as local plants: skunk cabbage, salmon berries, and medicinal herbs used by First Nations.
Unexpected sculptures, driftwood shelters, a children's garden and a frog pond, into which a local kindergarten class releases tadpoles each spring, make this an enjoyable experience, one in which conservation and meditation are encouraged. A fine way to end the day is relaxing on the garden's outdoor patio at Darwin's Café, overlooking a landscape of flowering plants while enjoying organic teas, coffees, and pastries.
The Kwisitis Visitor Center within the National Park features interactive exhibits and during the summer offers interpretive walks that explore the natural and cultural history of the Pacific Rim. Various galleries in both communities sell aboriginal art, including paintings, carved masks, woven baskets, and jewelry. Considered a "must see" is the Eagle Aerie Gallery in Tofino, a traditional Longhouse displaying original paintings and reproductions by native artist Roy Henry Vickers.
Festivals
Every month, a different festival celebrates some aspect of life on the coast, from art and music to shorebirds and whales. You're sure to be entranced by the "intimate settings and vibrant energy." During May, we enjoyed the "Feast of Tofino" festival where renowned local and visiting chefs combine their culinary talents to prepare unique "boat-to-table" full-course dinners. We were not disappointed by the array of seafood featured at Jamie's Restaurant and Wolf in the Fog, the latter rated by En Route Magazine as "Best new restaurant in Canada 2014." The food at both establishments was soooo good; we wanted to lick our plates!
Other Activities
Both communities have fitness centers, tennis courts, and kilometres of paved bike paths. Tofino also has pickle ball courts, a regulation 9-hole golf course located near the commercial Long Beach Airport, and a brewery that offers tours and samples of original crafted beers such as Kelp Stout and Tuff Session Ale. Ucluelet has a "catch and release" aquarium where visitors are encouraged to learn about and handle various sea creatures, which are returned to the ocean at the end of the tourist season. If you enjoy bird watching, this area is world-class because of the numerous species that live here or migrate through in the spring and fall. Kilometres of sandy beaches provide various options: kite flying, bike riding, beachcombing, clam digging, exploring tidal pools, or just relaxing on a blanket with a good read and beverage.
A half-day outing that we enjoyed often, started in late afternoon at Tacofino Cantina, a small food truck located at the back of a gravel parking lot. We didn't mind standing in line for what is arguably the best fish taco on the planet. Entertainment is provided by crafty crows, snatching tidbits from the plates of tourists who leave them unattended. For dessert, we walked across the lot to Chocolate Tofino for handcrafted gelato and chocolates to die for. The outing ended back at our RV site where I would build a campfire, stare into the embers, and think about all I really want: peace, love, understanding, and a scoop of salted-caramel gelato bigger than my head!
At the end of our joyful month on the Pacific Rim, we reluctantly retraced our route across Vancouver Island back to more mundane activities. With images of shimmering waves, sandy shores, and towering conifers engrained in our memories, we decided to set our watches on Tofino time: "Half the pace – twice the pleasure."
Useful websites
FERRIES
BC Ferries   http://www.bcferries.com
Washington State Ferries     http://www.wsdot.wa.gov/ferries/
Blackball Ferry     https://www.cohoferry.com
RV PARKS
Pacific Rim National Park Reserve
Green Point Campground     http://www.pc.gc.ca/eng/pn-np/bc/pacificrim/visit/visit4c.aspx#LBU
Tofino
Bella Pacifica Campground   http://www.bellapacifica.com
Crystal Cove Beach Resort     http://www.crystalcove.ca
Long Beach Golf Course & Campground     http://www.longbeachgolfcourse.com
MacKenzie Beach Resort     http://www.mackenziebeach.com
Ucluelet
Island West Resort     http://www.islandwestresort.com
Surf Junction Campground     http://www.surfjunction.com
Ucluelet Campground     http://uclueletcampground.com
Wya Point Resort    http://www.wyapoint.com
ACTIVITIES
Tourism Tofino     http://www.tourismtofino.com