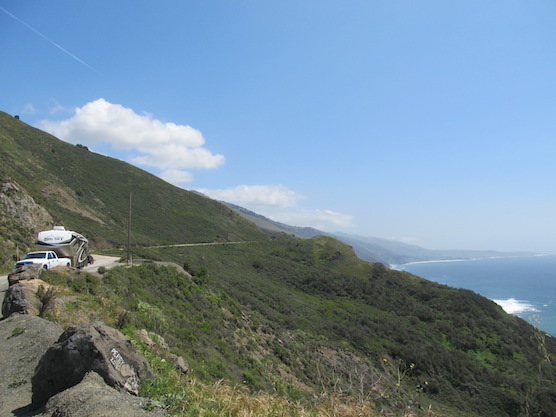 This curvy coastal route will take your breath away … in more ways than one
 As Snowbirds from the west coast of Canada who spend our winters in the hot, dry Arizona desert, my wife Sandy and I long for the sight, sound, and scent of ocean waves lapping on sandy beaches. This past April, when it was time to leave, we headed west on Highway 10 to the busyness of Los Angeles. From there, we could have driven three long, boring days north on Interstate 5 to reach British Columbia. Instead, we continued west on Highway 101, intent on casually exploring coastal routes home.
WELCOMMEN TO SOLVANG
We stopped in Buellton for a couple of nights at the Flying Flags RV Resort and Campground so we could visit the nearby community of Solvang. If you've never been to Denmark, this Danish village is as close as you can get, and you don't even need a Passport. We strolled through a large portion of the 100-plus unique stores, art galleries, and antique shops, chuck full of items representative of Denmark. They even have a bronze statue (1/3 size) of the "Little Mermaid" to welcome visitors, just as it does in Copenhagen. Flower-lined streets and brightly colored buildings with timbers framing brick or stucco walls and with thatched roofs provide a farm-style ambience so prevalent in Denmark.
Solvang's heritage is found in restaurants and bakeries with specialties such as Danish pancakes, aebleskiver (dough balls served with raspberry jam and powdered sugar), smorrebrod (open face sandwiches), frikadeller (meatballs), and the ever-popular smorgaasbord (buffet). Sampling gourmet wines, chocolates, and baked goods is popular, as is taking a horse-drawn trolley through the village.
The wooden storks perched on rooftops are said to bring good luck in Denmark, and in Solvang too. Several museums provide photographs and oral histories about the three immigrants who founded Solvang ("sunny field" in Danish) in 1911, and how the cultural links with Denmark continue today.
A CASTLE ON THE HILL
A short drive north of Buellton on Highway 101 brought us to San Luis Obispo where Highway 101 heads inland and Route 1 leads to the coast. We took the coastal route to the village of Cayucos, overlooking Morro Bay, where we parked the trailer for two nights at Bella Vista RV Park. Our dog "Bella" (just a coincidence!) really enjoyed the "dog-friendly" beach where she could be off-leash and romp in the sand and surf with other dogs. We were lucky to get the last site available, since we hadn't made a reservation and no other nearby parks could accommodate our large trailer. There are, however, at least a half dozen State Park Campgrounds further along Route 1 that can accommodate RVs of 30 feet. One of the reasons this particular park is so busy is because they have few transient spaces. Also a major tourist attraction – Hearst Castle – is just 20 miles up the road near San Simeon. We spent a day touring this Mediterranean Revival estate, now operated as a California State Park visited by millions over the past 58 years.
Friends told us to make sure we had a reservation for a tour of the castle, which can be made on the Internet. We're glad we did … when we arrived, the Visitor Center just off the highway was a hub-bub of activity with lines of people waiting to buy tickets, board tour buses, and watch an IMAX movie "Hearst Castle: Building the Dream, " a documentary showing the personalities involved and construction of the castle. Other folks were meandering through the photo museum and gift shop, which we also did after our tour.
From 1919 to 1947 William Randolph Hearst, a wealthy newspaper publisher constructed what he called his "ranch at San Simeon" for family and guests. Our tour guide pointed out various features, first outside overlooking the Neptune Pool (104 feet long) which was temporarily under repair; then inside the Casa Grande (big house), 68,500 square feet containing 115 rooms, including 38 bedrooms, a library, movie theatre, kitchen, and living quarters for staff. The dining room table is longer than our 5th-wheel!
Roman columns and bell towers designed after a cathedral in Spain give a church-like appearance to the structure, while some pieces of art are more than 3000 years old. In a separate building, an indoor Roman Pool (only 81 feet long!) is constructed of colorful glass tiles, some containing a layer of gold leaf inside. Outdoors, the landscaping is impeccably maintained with native oak, citrus trees, palm trees, box hedges, and sprinklings of roses, fuchsias, bougainvilleas, and azaleas.
By the end of the day, we had a better understanding of why "Willy," as his mother called him, went to such extremes to build his hilltop house, with spectacular views of the ocean and surrounding countryside, and fill it with exquisite art and antiques. Not only did he thoroughly enjoy collaborating with his architect and showing off his creation to his wealthy contemporaries, but he had every intention of having it become a museum after his family no longer chose to live in it. As museums go, it's definitely excessive and enchanting, which is probably why we felt somewhat impoverished after returning to our trailer that evening!
But before doing so, we drove a few miles north of the Castle parking lot to a well-marked pullover for viewing elephant seals. Hundreds of these lumbering giants can be observed lounging on the beach as far as the eye can see – a definite photo op.
ON THE ROAD TO MONTEREY
Of all the roads we've traveled during years of RVing, near the top of our "most impressive" list is Route 1 along the Central Coast of California. Between Morro Bay and Monterey, the spectacular scenery will take your breath away – a kaleidoscope of ocean vistas, craggy pillars, crashing waves, rocky coves, and stretches of sandy beach. And if that doesn't do it, the hairpin turns and treacherous cliffs most likely will!
The United States Department of Transportation has designated 31 "All-American Roads" as having unique features important enough to be tourist destinations unto themselves. Route 1, also known as Big Sur Coastal Highway, is one such road that should be on every RVers' bucket list, but only if you're not in a hurry. With several stops at viewpoints and delays by roadwork crews, it took us nearly 5 hours to cover the 135 miles, averaging less than 30 mph. It could take longer, depending on the volume of traffic and how many road repairs are underway, but don't be deterred – just the feeling of accomplishment is well worth the effort.
Some RVers I've talked to had left their trailers and motorhomes at a campground near either end of the highway, and ventured forth with their trucks and tow vehicles. Signage indicates the road is "not recommended for trailers over 30 feet from hitch to axel," which is great because our 38' fifth wheel is less than that. We even saw a couple of large Class-A motorhomes along the way. One criterion for designation as an All-American Road is that the road safely accommodates conventional tour buses, which are often longer than most trailers.
 A neighbouring RVer had suggested we try a pie from A Deli and Pieman Pies restaurant in Cayucos. So, before leaving the next morning we walked into town and picked up one. Oh my! This freshly baked blueberry pie was arguably the best on the planet and kept us happy for two days!
About 50 miles north of San Simeon we passed through the village of Big Sur, situated on the edge of the ocean and the Los Padres National Forest. Brochures indicate that this area has numerous hikes through giant redwoods, alongside streams, and onto pristine beaches to beguile any nature lover. Arriving at the Monterey County Fairgrounds RV Park, we had no difficulty getting a site, all of which are big-rig friendly with friendly hosts as well.
The next day, we left the trailer at the campground and drove to the delightfully charming Carmel-by-the Sea, which we had driven by on the way to Monterey.  Good thing – its narrow streets are definitely not suitable for large RVs. Quaint cottages, unique inns, boutiques, galleries, and award-winning restaurants all provide a distinctly European atmosphere. And talk about dog friendly, we took Bella into the landmark Cypress Inn, co-owned by legendary movie star and animal rights enthusiast, Doris Day. This boutique hotel is a gathering place, especially from 4 to 6 pm during "Yappy Hour," for pet owners to meet and mingle alongside their canine companions. This is one of a dozen restaurants in town where dogs can eat and drink with their owners.
After saying goodbye to our new furry friends, we cruised Pebble Beach's 17-Mile Drive, which meanders beside the coast and through Del Monte Forest. Several pull-offs allow views of crashing waves, seals by the dozens sunning on a rocky outcropping, and a 250-year-old cypress tree, which because of its longevity is reportedly one of the world's most photographed trees. We took our mandatory photo and continued on to the Lodge at Pebble Beach Golf Links.
Pebble Beach flaunts luxury and grandeur with elegant homes, resorts, and renowned golf courses. The price of golf was prohibitively expensive for me, but I did buy a souvenir hat and we lunched on the patio of the Lodge's restaurant, overlooking the renowned 18th fairway. Even if you're not rich and famous, you can at least pretend to be!
The next day, we visited a couple of attractions in Monterey beginning with the Aquarium perched on the edge of Monterey Bay. Our favourite live exhibit displayed southern sea otters, rescue animals whose playful antics can be observed both on land and under water. Did you know that sea otters have the world's densest fur – up to a million hairs per square inch? In comparison, humans have only about 100,000 hairs on our whole head.
Feeding times were especially enjoyable to watch as otters, penguins, jellyfish, sharks, and other predators displayed their skillful abilities to dine as they do in the wild.
A special exhibit "Viva Baja! Life on the Edge" features various land and sea animals that live in the coastal habitats of Baja California – colorful coral fish, desert tortoises, seahorses, king snakes and moray eels to name a few. One day is hardly enough to fully appreciate what this marine attraction has to offer … we'll be back.
You can't visit Monterey without going to Fisherman's Wharf. And if you like clam chowder, you can sample to your heart's delight from the many restaurants that provide free tastings of chowder to entice you in for a meal. My favourite was Domenico's on the Wharf; their wild Alaskan salmon on a cedar plank was yummy. "Glorious sunsets followed by moonlight and stars dancing over Monterey Bay are complementary with every dinner served." We made use of our free appetizer card which we had gotten from our campground host, so it was a good day overall.
Although not considered part of the All-American road, Route 1 from Monterey to San Francisco has spectacular scenery as well and is not nearly as curvy. Our favorite spot along the entire coast, where we stopped for a picnic lunch and photos, was Pigeon Point Lighthouse about 50 miles south of San Francisco … a locale that captures nature's majesty at its finest.
We spent three days sightseeing in the City by the Bay, but unlike iconic singer Tony Bennett who left his heart in San Francisco, we had already left ours on the fabled All-American Road – Route 1.
IF YOU GO …
*   Go South to North on Route 1, as we did, if you prefer the inside lane hugging the rocky hillsides. North to South provides better views and easier access to pullouts, but may be a bit intimidating, driving along the edge of steep cliffs high above the rocky shoreline (I can't wait to do that next time!).
*   Travel on a weekday rather than a weekend to encounter less cars and bicycle traffic.
*   Begin around noon to avoid misty mornings associated with most coastal roads, and to arrive before the late afternoon sun impedes visibility.
*   Reserve RV sites and Hearst Castle tours in advance.
*   Check your fuel, as there are no stations along the way except in Big Sur.
*   Pack a picnic lunch to enjoy at an overlook while savoring the views.
*   Don't expect pigeons at Pigeon Point … Bella was disappointed!
*   Bring binoculars to observe whales and other wildlife, and oh yeah, don't forget a camera.
USEFUL WEBSITES
All-American Roads     https://en.wikipedia.org/wiki/National_Scenic_Byway
Solvang     http://www.solvangusa.com
Hearst Castle     http://hearstcastle.org
Big Sur     http://www.bigsurcalifornia.org
Carmel     http://www.carmelcalifornia.com
RV Parks
Flying Flags RV Resort and Campground, Buellton   http://www.highwaywestvacations.com/properties/flyingflags
Bella Vista RV Park, Cayucos     http://www.bellavistabythesea.com
California State Parks   http://www.parks.ca.gov/ParkIndex
Monterey County Fairgrounds RV Park, Monterey   http://www.montereycountyfair.com/rv-park/about-the-rv-park